This opportunity listing has expired and may no longer be relevant!
Compete

Allied Artists of America 108th Annual Exhibition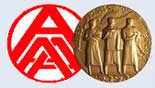 Opportunity Description
International Deadline: July 2, 2021 – Allied Artists of America is accepting online entries for our 108th Annual Exhibition. Over $30,000 in cash will be given.
On display September 2nd –September 19th, at the Salmagundi Club, 47 Fifth Avenue, New York, NY
ELGIBILITY
Open to all artists 18 years and older. Original 2 dimensional artwork in oil, watercolor, pastel, acrylic, graphic, mixed media and sculpture are accepted. A complete list of all accepted artists will be posted on the AAA website beginning July 16th.
2 dimensional work – 48 inches max width or height including frame.
All work must be framed, wired and ready to hang – we do not provide framing hardware.
Sculpture in the round – 48x24x24 inches max dimensions excluding base; max weight 150lbs.
Reliefs – 36″x 36″x 6″ inches deep, max dimensions, max weight 30 lbs.
APPLY ONLINE – Entry fee $55
Visit us online for more information. Accepting submissions starting March 15, 2021.
DATES
July 2 (Friday) Submission deadline
Notification of acceptance: July 16th (Friday)
August 31st (Tuesday) Receiving Day at Salmagundi Club
September 2 (Thursday) 108th Annual exhibition opens to public
September 19th (Sunday) 108th Annual exhibition closes at Salmagundi
September 20th (Monday) Pick up of work 8:30-2pm
---
About:
Allied Artists of America, Inc. is a non-profit National Art Society composed of artists, sculptors, elected active members and sustaining associate members from the across the country. The offices and exhibition galleries are both located at the elegant historical landmark, Salmagundi Club. The Allied Artists of America is incorporated under the provisions of section 101 (6) of the Internal Revenue Code.
The Allied Artists of America, Inc., as it is now known, was founded in New York City in the year 1914.
Allied Artists of America, Inc
Salmagundi Club
47 Fifth Avenue
New York, NY
Apply for this Opportunity