Art Calls

Smack Mellon Solo Exhibition Proposals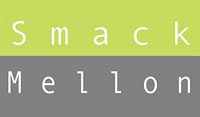 Opportunity Description
U.S. National Deadline: December 1, 2022 – Smack Mellon welcomes proposals from emerging and under-recognized mid-career artists. Proposals will be considered for both Gallery One (the larger front space) and Gallery Two (the smaller back space). For Gallery One we encourage site-specific projects and installations that respond to the unusual architecture of the space. Only artists who do not have commercial gallery representation in New York City will be considered.
We accept applications for exhibitions twice per year. The next deadline to submit a proposal is May 4, 2022, and the following will be December 1, 2022. We will respond to each group of new applicants by the end of August and the end of February respectively. We will be reviewing submissions for 2023 or later.
APPLY ONLINE – No Application Fee
Please note:
Artists should understand that they are responsible for delivering their artwork to the gallery and for the execution and installation of their artwork. Smack Mellon does not have a full time staff of preparators. We will hire a freelance preparator to help with the installation of the artwork, but the amount of time available to each artist is limited. Smack Mellon has media equipment available for our exhibitions. We can provide details of the equipment as well as specifics about the installation of work will be discussed after the proposal has been accepted for further consideration.
---
About:
Smack Mellon is a nonprofit arts organization located in Dumbo, Brooklyn. Smack Mellon's mission is to nurture and support emerging, under-recognized mid-career and women artists in the creation and exhibition of new work, by providing exhibition opportunities, studio workspace, and access to equipment and technical assistance for the realization of ambitious projects. We see ourselves as a vehicle whereby under-represented artists can create, explore and exhibit their creative ideas outside the concerns of the commercial art world, offering many artists the exposure and recognition they deserve.
Smack Mellon
92 Plymouth Street
Brooklyn, NY 11201
Phone: (718) 834-8761
Apply for this Opportunity