This opportunity listing has expired and may no longer be relevant!
Compete

Diptych/Triptych: An International Call for Works Made up of Two or Three Parts

Opportunity Description
International Deadline: February 20, 2022 – The Cincinnati based non-profit arts organization and gallery, Manifest, invites visual artists and designers to submit works that exist in twos and threes, examining the possibilities afforded by these groupings.
An idea can call for multiplicity—you can't always say everything in one image, one object. It is sometimes better, then, to work with an orchestra instead of a soloist.
Diptychs and triptychs are traditional modes for an artist to use multiples in their work, each with their own histories and idiosyncrasies. Two images together can present dichotomy, an either/or, a balance, an alternative. The triptych pulls the viewer into the realm of sequence, of beginning, middle, and end, of the central work flanked by attendant handmaidens.
ELIGIBILITY
Diptych/Triptych is open to everyone. The only limitation is that entries must represent original works which address the broad theme described above. Submitting specific works shown previously in Manifest's physical gallery exhibits is discouraged.
Open to any and all traditional and non-traditional visual arts 2d or 3d media.
CASH AWARD
The annual Manifest Grand Jury Prize will result in the awarding of one significant cash prize ($5,000) to a single work selected as the 'best of the entire season'…  see more.
JURY & CURATOR
This exhibit will be juried by an anonymous several member volunteer panel of professional artists and academic advisors with a broad range of expertise relative to art and design. The jury will then pass along their recommendations to the exhibit curator who will design the exhibit from the jury-approved pool.
PUBLICATION
Manifest's selection process involves a complex two-part system. This exhibit will be juried by an anonymous several member panel of professional and academic advisors with a broad range of expertise relative to art and design.
ENTRY FEE
$40 for up to four entries submitted. $5 per each additional entry. Fees are non-refundable. Number of entries is unlimited.
ENTRY
Visit Manifest Gallery online to Apply.
SALES
Artworks are not required to be for sale in order to be included in our exhibitions. It is required that works are indicated as either "for sale" or not for sale (NFS) on the submitted entry form. Manifest Gallery will retain a commission of 30% of the sale price on all artwork sold during the exhibition.
DATES
February 5, 2022 – Deadline to Submit
March 14 Notifications sent by email to all entrants by the end of this day.
March 21 Hi-res images needed for season annual and PR
April 9 Artwork due to Manifest by this date
April 14 Special Preview Event (Ticketed, 7-9pm)
April 15 Opening Reception (6-9pm).
May 12 Zoom-based artists' panel discussion
May 13 Final Day of Exhibition
May 14-21 Pick-up hand-delivered work
May 18 Schedule shipped artwork for pickup (arranged by artist)
Visit Manifest Gallery online for complete details and to Apply.
---
About:
Manifest Creative Research Gallery and Drawing Center is a 501(c)(3) not-for-profit organization located in East Walnut Hills in Cincinnati, Ohio. We serve as a venue for the display and experience of insightful, thought provoking art and design, and functions as a hub for creative research and innovation at all levels of artistic endeavor.
Manifest Gallery
2727 Woodburn Avenue
East Walnut Hills
Cincinnati, Ohio 45206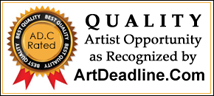 Apply for this Opportunity