This opportunity listing has expired and may no longer be relevant!
Internet

NOAPS 2021 Spring International Online Exhibition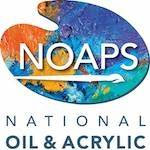 Opportunity Description
International Deadline: April 11, 2021 – The National Oil & Acrylic Painters' Society (NOAPS) invites oil and acrylic painters from all across North America and International Artists to apply to our exhibit honoring the Best in oil and acrylic painting.
Since 1991, the National Oil & Acrylic Painters' Society (NOAPS) has been showcasing the remarkable talents of thousands of oil and acrylic painters.
This is an international juried online competition. 150 Artworks accepted into the show and eligible for awards.
ELIGIBILITY
Open to all artists all NOAPS Members and Non-Members 18 years of age and older working in Oil and Acrylic medium. This is an International Show and all countries welcome.
JUROR
Christine Graefe Drewyer is a Signature Member of NOAPS since 2015 and is a member of many National Art Organizations, including Signature Member of American Women Artists, acting President and 4-year Board member; Master, Signature, Emeritus Member of Women Artists of the West, Past President for four years and Board Member for eight years, and Washington Society of Landscape Painters where she serves as the Publicity Chair.
She co-founded and co-owned the Main Street Gallery in Annapolis, Maryland for thirteen years. She has chaired and organized numerous Exhibitions, most recently including the WAOW 50th Jubilee Anniversary Show at Settlers West Gallery in 2020 and the AWA, "A Tradition of Excellence" Exhibition at RS Hanna Gallery in 2019.
Recent Top Awards include The F&M Bank Purchase Prize Award at the Haggin Museum – American Women Artists in 2018, Best in Show / Women Artists of the West, "Season's Splendor" in 2017… see more
AWARDS
Best of Show: $1000
Second Place: $500
Third Place: $300
Best Landscape: $200.00
Best Still Life: $200.00
Best People: $200.00
Best Use of Light & Color: $200.00
Most Innovative: $200.00
Narrative Excellence: $200.00
Ten Awards of Excellence: $100
Ten Merit Awards: I year membership to NOAPS – $50.00 value
The TOP 200 artists will be given recognition on www.NOAPS.org with Artist name, artist website link and image selected for this exhibit.
ENTRY FEE
$30.00 for the first image and $10.00 for each addition image up to a maximum of 5.
APPLY ONLINE
Visit us online for complete details and to apply.
SELECTION PROCESS
Each entry is reviewed and scored by an independent jury panel. The Jurying panel will consist of a minimum of 5 NOAPS Master Artists or Signature Members. The panel selects paintings for the exhibit based on the quality and individual mastery of the medium.
SALES
Requests relating to artist's information or sales will be forwarded to the artist.
---
About:
The National Oil and Acrylic Painters' Society was organized for the purpose of "governing, administering, and maintaining such activities as will provide a national forum and standard of excellence in which artists can fully express the media of oil and acrylic on canvas and panel."
Focusing on the emerging artist, rather than the well known painters who have already gained acceptance in the Visual Fine Arts industry, the NOAPSociety has continued to encourage these extremely talented artists. This philosophy has served well during two plus decades of steady growth as evidenced by its tremendous appeal to not only the art connoisseur, but also to the general public which persists in its relentless quest of "The Best!"
National Oil and Acrylic Painters' Society
P.O.Box 690411
Houston, TX, 77269
Apply for this Opportunity