Compete

Painted: Biennial 2023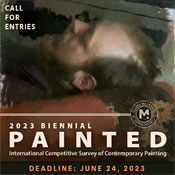 Opportunity Description
International Deadline: June 24, 2023 – The Cincinnati based non-profit arts organization and gallery, Manifest, invites visual artists and designers to submit original works of contemporary painting. Open to all traditional and non-traditional genre and media.
At some point many generations ago society reached a level where ordinary people could spend a lifetime perfecting their ability to mix and apply paint, in extraordinary ways. A decade ago, to mark Manifest's 10th season the gallery kicked off a permanent biennial project surveying painting as an art form. It was first presented in fall 2013 to inaugurate our expanded gallery. PAINTED 2023 will be the sixth biennial presentation of this international survey of contemporary painting.
PAINTED joins Drawn as a recurring gallery exhibition designed to complement our ongoing triennial INDA and INPA (drawing and painting) publications. Every two years it launches our exhibition season by presenting a competitive group exhibition focused exclusively on painting.
PAINTED is a gallery exhibit that calls for works of painting by artists around the world as they carry the tradition forward, or reform it for another day. Submissions can range from the most traditional to the most conceptual, abstract, or experimental, including those which push the boundaries of the common definition of what constitutes 'painting'.
On display September 29 thru  October 27, 2023.
ELIGIBILITY
PAINTED is open to everyone. The only limitation is that entries must represent original works of art that qualify in some way as 'painting'. There is no size restriction, other than what can fit through our doors or hang on our walls. (Large paintings are most welcome, but remember, you'll have to get them here if selected!)
Open to all traditional and non-traditional genre and media. Not limited to pure 'painting on canvas'. We are eager to see how far the boundaries of Contemporary Painting reach. Manifest's carefully assembled juries change from project to project, and have no collective predisposition towards any particular kind or style of art.
CASH AWARD
The annual Manifest Grand Jury Prize will result in the awarding of one significant cash prize ($5000) to a single work selected as the 'best of the entire season'…  see more.
JURY & CURATOR
This exhibit will be juried by an anonymous several member volunteer panel of professional artists and academic advisors with a broad range of expertise relative to art and design. The jury will then pass along their recommendations to the exhibit curator who will design the exhibit from the jury-approved pool.
PUBLICATION
Manifest Press will produce a high quality hard-cover publication documenting each entire season of exhibits, artists, and works shown. This continues Manifest's commitment to long-term documentation and dissemination of our projects, and the expansion of physical exhibits into a broader geography and time frame, while also bringing all exhibits together under one cover each year to create a better product which will be more valuable to the public, teachers, libraries, and exhibiting artists.
ENTRY FEE
$40 for up to four entries submitted. $5 per each additional entry. Fees are non-refundable. Number of entries is unlimited.
APPLY ONINE
Visit Manifest Gallery online to Apply.
SALES
Artworks are not required to be for sale in order to be included in our exhibitions. It is required that works are indicated as either "for sale" or not for sale (NFS) on the submitted entry form. Manifest Gallery will retain a commission of 30% of the sale price on all artwork sold during the exhibition.
INSURANCE
Works will be insured while on gallery premises. Insurance covers theft, vandalism, damage caused by gallery patrons or staff.
Visit Manifest Gallery online for complete details and to Apply.
---
About:
Manifest Creative Research Gallery and Drawing Center is a 501(c)(3) not-for-profit organization located in East Walnut Hills in Cincinnati, Ohio. We serve as a venue for the display and experience of insightful, thought provoking art and design, and functions as a hub for creative research and innovation at all levels of artistic endeavor.
Manifest Gallery
2727 Woodburn Avenue
East Walnut Hills
Cincinnati, Ohio 45206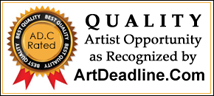 Apply for this Opportunity