Internet

October PleinAir Salon $33,000 Art Competition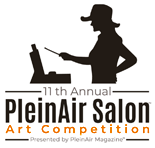 Opportunity Description
International Deadline: October 31, 2021 – PleinAir magazine presents the 11th annual PleinAir Salon Art Competition.
In the spirit of the French Salon created by the Academie des Beaux-Arts in Paris, this annual competition, with 11 monthly cycles, leading to the annual Salon Grand Prize winners, is designed to stimulate artistic growth through competition. The competition rewards artists with $33,000 in cash prizes and exposure of their work, with the winning painting featured on the cover of PleinAir magazine.
ELIGIBILITY
All individuals entering must be at least 18 years of age to accept cash prizes. Competition is open to residents of any state or country where acceptable by law. Those entering the Student, Artists Under 30, or Artists Over 65 categories must verify age
All types of paintings are eligible and do not need to have been completed in plein air, but should originate from a plein air study or plein air experience.
BENEFITS & AWARDS
The PleinAir Salon $33,000 Art Competition is a monthly online competition consisting of 18 categories. We award $33,000 each year for this competition.
The Annual Grand Prize winner receives a check for $15,000 and is featured on the cover of PleinAir Magazine. We award an additional $6,500 to the annual winners and we award $1,100 to the top three winners and People's Choice of each monthly competition. Each of the 22 monthly winners will be automatically entered into the Annual Competition. The annual awards are presented live at the Plein Air Convention & Expo… plus more
ENTRY FEE
Low early bird entry fees. Visit us for details.
APPLY ONLINE
Visit us online for more details and easy online application. Enter as many paintings as you would like, in as many categories as you would like — paintings do not need to be recent or currently in your possession.
Also see our past past monthly and Grand Prize winners on our website.
---
About:
Published bi-monthly, PleinAir Magazine™ is focused on landscape paintings by historical and contemporary artists, art collections, events, and the process of creating plein air paintings. Beautifully designed with rich reproductions on high-quality paper, PleinAir features the top artists and artworks from around the world.
Apply for this Opportunity