This opportunity listing has expired and may no longer be relevant!
Compete

Wild Muse: Animals in Art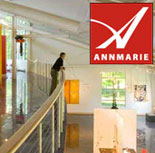 Opportunity Description
U.S. National Deadline: March 19, 2023 – Annmarie Sculpture Garden & Arts Center invites emerging and established artists to submit original artworks to 'Wild Muse: Animals in Art'.
Lions and tigers and … griffins? Oh, my! Ever since humans first started drawing on cave walls, the animal world served as an endless source of fascination. Incorporating animal motifs into their decorative vocabulary, artists today use various commonplace creatures and mythic beasts to imbue their artwork with majesty, familiarity, or even humor. This exhibition showcases a selection of artwork depicting animals, both real and imagined.
This exhibition will be open to the public in the Kay Daugherty Gallery from May 5 to September 17, 2023.
ELIGIBILITY
All media will be considered, including painting, printmaking, sculpture, performance, glass, fiber, digital, photography, installation, mixed media, and new genres. All works must be made within the last four years. Artists must be 18 years or older.
JUROR
Maureen Leary, Youth & Family Programs Manager, National Postal Museum.
AWARDS
Annmarie will present cash awards to outstanding work. Jurors will review installed works in person or virtually (not application images) for award selection. If possible, selection will occur prior to the exhibit opening and awards will be presented at the Annmarie After Hours Opening Reception. Award amounts are contingent upon funding.
ENTRY FEE
Our exhibit application will allow you to submit up to 4 works for a $25.00 non-refundable fee.
DATES
Deadline to apply: March 19
Notification of decision: March 31
Delivery of artwork: April 24 – 30
Annmarie After Hours Opening: May 5 from 5 – 7 pm
Exhibit: May 5 to September 17
Artwork Pickup and Return Shipping: September 19 – 24
---
About:
An affiliate of the Smithsonian Institution, Annmarie is a thirty-acre sculpture garden and arts center located in scenic Solomons, Maryland, on the Chesapeake Bay. The sculpture garden features a walking path that meanders through the forest, past permanent and loaned sculpture, including more than forty works on loan from the Smithsonian Institution and the National Gallery of Art.
The garden also presents a variety of special events, gallery shows, and engaging public art programs throughout the year. The Studio School offers creative classes taught by a talented faculty. The award-winning Arts Building is a 15,000 sq.ft. museum-grade exhibition space that includes two large galleries, a gift shop, the artLAB, and a sunny patio that offers lovely views of the outdoor sculpture.
Annmarie Sculpture Garden & Arts Center
In Association with the Smithsonian Institution
P.O. Box 99, 13480 Dowell Road
Dowell (Solomons), MD 20629
t. 410-326-4640
Apply for this Opportunity