Internet

CAGO's 9th Annual International "ALL Water/Seascape" Art Competition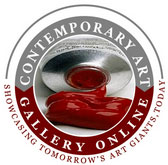 Opportunity Description
International Deadline: August 8, 2021 – Contemporary Art Gallery Online is proud to announce their 9th Annual "Water/Seascape" Online Art Competition for 2021.
The "Water/Seascape" theme is considered to be any art with the subjects being scenes of coastal living, any ocean activities, seaside vistas, any related seashore subjects, and any type of body of water (ie. lakes, rivers, oceans, ponds, streams, etc.). The theme extends itself to anything water. Rain, drippy faucets, icebergs, etc. If the theme or major component of your piece is "Water" it satisfies the theme requirement.
An exhibition of all entrants will be held online from August 11th to September 7th, 2021.
ELIGIBILITY
Artists should submit their best representational and non-representational art related to the "Water/Seascape" theme.
Contemporary Art Gallery Online encourages entries from all 2D and 3D artists regardless of their experience or education in the art field. Must be original work to the artist. The artist must be willing to sell their work (print or original).
AWARDS
This competition will be judged within three categories; Paintings/Drawings, Photography/Digital Art and Mixed Media and 3 Dimensional Work.
Prizes include Memberships to Contemporary Art Gallery Online, Digital Award Certificate, Event Collateral, Radio Interviews and "In the Artist Studio episodes" are extended to selected winners. Inclusion in the Bi-Annual Year End Anthology Publication, Extensive Marketing and much more.
Competition Results posted: July 26, 2021.
ENTRY FEE
$15 for 1 to 3 images and $25 for all images up to 5
APPLY ONLINE
Visit us for complete Prospectus and Application.
DATES
Deadline for Receiving Entries: August 8, 2021
Competition Results are Posted: August 23, 2021
Opening of Online Art Exhibition: August 11, 2021
Award Certificates Emailed to Artists: August 31, 2021
Online Art Exhibition Closes & Archived: September 7, 2021
---
About:
Contemporary Art Gallery Online was created by Artists and Art Enthusiasts, to be the ultimate meeting place for the sharing of art. Our purpose is to create a platform whereby Artists can display, and ultimately sell their work. We are the only online gallery that limits the number of artists represented and only accept artists, whose work has a strong point of view, and meets our high standard of quality.
Apply for this Opportunity