This opportunity listing has expired and may no longer be relevant!
Internet

CAGO's International "ALL Figurative/Portrait" Art Competition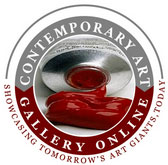 Opportunity Description
International Deadline: September 11, 2022 – Contemporary Art Gallery Online is proud to announce their "ALL Figurative/Portrait" Online Art Competition.
The "ALL Figurative/Portrait" theme is considered to be any art which depicts either actual rendering of a person's face or figure or the depiction of a to be figure, form and/or face.
An exhibition of all entrants will be held online from September 14th,2022 to October 11th, 2022.
ELIGIBILITY
Contemporary Art Gallery Online encourages entries from all 2D and 3D artists regardless of their experience and/or education in the art field or where they may reside. This is an international competition and everyone is encouraged to participate.
Artists should submit their best representational and non-representational art related to the "Figurative / Portrait" theme.
AWARDS
This competition will be judged on Painting & Drawing Art, Photography and Digital Art, Mixed Media and 3-Dimensional Art. Awards will be given for the top 5 to 8 works selected
Prizes include Memberships to Contemporary Art Gallery Online, Extensive Marketing, Winner's Certificates, Inclusion in the Annual Anthology Publication, Event Collateral and much more… see more
ENTRY FEE
$15 for 1 to 3 images and $25 for all images up to 5.
APPLY ONLINE
Visit us for complete Prospectus and Application.
DATES
Deadline for Receiving Entries: September 11, 2022
Competition Results are Posted: September 28, 2022
Opening of Online Art Exhibition: September 14, 2022
Award Certificates Emailed to Artists: October 5, 2022
Online Art Exhibition Closes & Archived: October 11, 2022
Also see last years exhibition online.
---
About:
Contemporary Art Gallery Online was created by Artists and Art Enthusiasts, to be the ultimate meeting place for the sharing of art. Our purpose is to create a platform whereby Artists can display, and ultimately sell their work. We are the only online gallery that limits the number of artists represented and only accept artists, whose work has a strong point of view, and meets our high standard of quality.
---

ATTENTION ARTISTS! ARTDEADLINE.COM IS CELEBRATING 29 YEARS OF QUALITY CONTENT
Join the 1000's of Emerging and Professional Artists today for real-time access to quality and exclusive content on the largest database of its kind.
OUR ANNIVERSARY CELEBRATION SUBSCRIPTION RATES START AT ONLY $8.00 (USD) / YR!!
Click here to Subscribe. Hurry as our anniversary special rate will end soon.
Apply for this Opportunity