This opportunity listing has expired and may no longer be relevant!
Compete

NYC4PA Call for Entry: Wandering Curves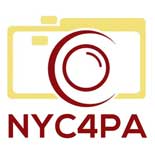 Opportunity Description
International Deadline: June 13, 2021 – The New York Center for Photographic Arts (NYC4PA) invites photographers world-wide to submit images using any photographic process (print, image transfer, emulsion transfer, encaustic, black and white, etc.).
The world around us is filled with all kinds of shapes. For this call the focus is on images where a curve or curves is a critical element. Whether you photograph in the city, the suburbs or the country the possibilities are endless. Is it a winding road, a stack of old tires, a 1950s automobile head or taillight? Or do you see the curvaceous form of an elephant's trunk when feeding, the curl of a giant wave or even a closer view of a head full of curls. Curves are all around us. Capture them as a dominant element of your images and send them in.
ELIGIBILITY
This Call for Entries is open worldwide to both amateur and professional photographers. NYC4PA invites photographers working in all mediums, styles and schools of thought to participate. Experimental and mixed techniques are welcome. Only 2-D work is eligible.
JUROR
Stephen Perloff is the founder and editor of The Photo Review, and editor of The Photograph Collector. He has taught photography at numerous colleges and universities and has been the recipient of two grants from the Pennsylvania Council on the Arts, the Sol Mednick Award, the first annual Vanguard Award from the Philadelphia Center for the Photographic Image, and the Colin Ford Award for Curatorship from the Royal Photographic Society.
Stephen is regarded as an expert in the photographic art market. His articles are reproduced in dozens of journals including American Photo, Town & Country, Silvershotz, and the website Le Journal de la Photographie. He has been called on as an expert for The New York Times and several other publications, He has also written several essays and introductions for photography books… see more
EXHIBITION AND AWARDS
There will be 10 cash prizewinners, 20 Juror Selections and 20 Honorable Mentions.
Grand Prize: One photographer will receive $1,100. The image will be featured on the home page NYC4PA.COM.
First Prize: 3 photographers will each receive $400.
Second Prize: 3 photographers will each receive $325.
Third Prize: 3 photographers will each receive $250.
ONLINE GALLERY, CATALOG and AWARD CERTIFICATE
All prizewinners will be included in both the online gallery and catalog and be presented with a certificate.
ENTRY FEE
The entry fee is $35 for the first three images. Additional images may be submitted for $10 each. There is no limit to the number of images submitted.
APPLY ONLINE
Visit us online for further details and to apply.
---
About:
The mission of the New York Center for Photographic Art is to provide exhibition opportunities in the vibrant New York City gallery world to photographers around the globe, and to take photographers around the globe for exciting photo opportunities.
NYC4PA offers international, themed, open call competitions juried by recognized experts in the field of photography. Prizes include cash awards, online gallery, catalog and New York City gallery exhibit.
Apply for this Opportunity