This opportunity listing has expired and may no longer be relevant!
Grants

Foundwork $10,000 Juried Grant with Studio Visits & Interview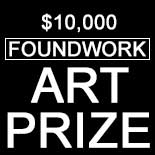 Opportunity Description
International Deadline: October 10, 2021 – The Foundwork Artist Prize is an annual juried award inaugurated in 2019 to recognize outstanding practice by contemporary artists. The honoree receives an unrestricted $10,000 grant and studio visits with the jurors who include progressive curators, gallerists, and artists. The honoree and three short-listed artists are also featured in interviews as part of our Dialogues program.
ELIGIBILITY
To be considered, artists will need to create a profile on Foundwork, with at least 5 published artworks, by 5:00 PM ET, October 15, 2020.
JURY (see complete bios here)
The jury for the 2020 Foundwork Artist Prize includes progressive international curators, gallerists, and artists:
Vanessa Carlos, Founder, Carlos/Ishikawa Gallery, London; Founder, CONDO international gallery collaborative
Qu Chang, Independent Curator and Art Historian, Hong Kong and Shenzhen; former Curator, Para Site, Hong Kong
Bridget Donahue, Owner and Director, Bridget Donahue Gallery, New York
Cédric Fauq, Curator, Palais de Tokyo, Paris; Incoming Chief Curator, CAPC Musée, Bordeaux
Thomas Lawson, Artist; Dean of the School of Art, CalArts, Valencia; Editor-in-Chief, East of Borneo
Thiago de Paula Souza, Independent Curator, São Paulo; Co-Curator, 2021 Frestas Triennial of Arts, Sorocaba, São Paulo; curatorial team, 10th Berlin Biennale
ENTRY FEE
Foundwork has a $4/month subscription for artists, and is free for artists who are *students at accredited graduate or undergraduate studio art programs.
APPLY ONLINE
Please see the FAQ and Official Rules posted on Foundwork for terms and instructions on eligibility and how to participate. Selection will take place 5:00 pm PT, October 10, 2021 through 5:00 pm PT, November 30, 2021.
The Prize is sponsored by Foundwork, Inc. and you can send any questions to support@foundwork.art.
Apply for this Opportunity