Art Calls

The Untitled Magazine Cover Story + Exhibit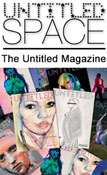 Opportunity Description
International Deadline: April 3, 2023 – The Untitled Magazine has announced an open call to artists, photographers, and creatives for an exclusive digital cover story to be released this May 2023 to coincide with Frieze Week NYC, presented in collaboration with The Untitled Space art gallery.
Have you always wanted to have your artwork on a magazine cover? This is your chance to inspire countless people with your unique artistic voice.
We are thrilled to announce our first-ever open call to artists for an exclusive digital cover story, including promotion across the magazine's social media channels and the option to have your work featured by The Untitled Space gallery on Artsy. Have your artwork seen by more than 500,000+ international viewers, including Untitled's international audience of leading galleries, museums, influencers, collectors, curators, talent, and art lovers around the world, as well as partner art and media channels.
Untitled is looking for an artist with an exceptional body of work for this unique opportunity. The selected artist will be featured with a cover story along with an exclusive interview on their work for The Untitled Magazine. The special edition cover story will be featured on the magazine's online edition as well as social media channels along with an online exhibition of the artist's work, which can optionally also be for sale by The Untitled Space gallery.
The Untitled Magazine Cover Opportunity includes:
Your artwork featured on The Untitled Magazine's May 2023 digital cover.
An exclusive interview on your work featured in the magazine.
An online exhibit of your work and your artist bio as part of the magazine's feature.
Promotion of the cover feature to press and Untitled's international audience. Have your work seen by more than 500,000+ international viewers.
Your artwork and interview featured across all of the magazine's social media channels, including Instagram and Facebook.
Optional: Your artwork featured by The Untitled Space gallery on Artsy, as well as the gallery's online sales platforms, partner sites, and socials (works for sale only).
ELIGIBILITY
Submissions are open to artists and creatives internationally. All ages, genders, and visual mediums will be considered. The open call is an open theme, artwork can be of any visual content, including abstract or figurative contemporary art, photography, digital art, fashion, or conceptual content.
The artwork does not have to be for sale, and can be existing artwork from your current collection or archives. Untitled is looking for the most innovative and unique artwork to share with our audience. Submit your most creative concepts! We are open to all types of content including images, gifs, and videos.
CURATOR
The cover story will be curated by Indira Cesarine, editor-in-chief of The Untitled Magazine and founder of The Untitled Space gallery in Tribeca, NYC. Indira Cesarine has become known for her empowering exhibitions and curatorial… see more
All artists who submit will be considered for future opportunities with The Untitled Magazine and The Untitled Space gallery, including group shows, international art fairs, and special projects.
APPLY ONLINE – $10
Read our complete Prospectus and Apply online.
---
About:  The Untitled Magazine presents the latest in art, fashion, and culture for creative audiences with an eye for originality.
Founded in 2009, The Untitled Magazine is an independent print and digital publication featuring exclusive interviews with inspirational talent in the art, fashion, and entertainment worlds, along with coverage of international exhibits, art fairs, film festivals, global events, and more. The publication has been invited to exhibit its original productions at the Metropolitan Museum of Art, fundraisers for the Louvre Museum, at Art Basel Miami, and Cannes Film Festival, among many others.
---

The Untitled Space is an art gallery located in Tribeca, New York in a landmark building on Lispenard Street.
Founded in 2015, the gallery features exhibits of emerging and established contemporary artists exploring conceptual framework and boundary-pushing ideology through mediums of painting, sculpture, printmaking, photography, video and performance art. The gallery is committing to exploring new ideas vis-à-vis traditional and new mediums and highlights a program of women, BIPOC and LGBTQ+ artists.
Press on The Untitled Space exhibitions includes Vogue (US), Vogue Italia, CNN, Forbes, Newsweek, W Magazine, Harper's Bazaar, Teen Vogue, New York Magazine, i-D Magazine, Dazed Digital, and The New York Times among many others.
The Untitled Space
45 Lispenard Street
New York, NY 10013
t: 212 780-0960
Apply for this Opportunity