This opportunity listing has expired and may no longer be relevant!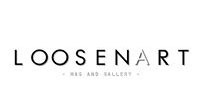 Opportunity Description
International Deadline: Recurring Monthly – LoosenArt is an online gallery and platform dedicated to contemporary visual arts, born and based on principles of contemporaneity, the very same principles in which contact, connection and exchange are prerogatives of a cultural evolution supported by a technology that is the expression of an interest to find new channels to relate directly to the others, an interest to demonstrate an innate need of human contact, where meetings are always something which give rise to something else.
The LoosenArt project provides a space where art finds further support of its role, of its deeper meaning, of it being a channel through which man relates with others, with the world and reality. Being in contact with all of this, means being linked, feeling and grasping what is originated from all reality, so it also means feeling what today we perceive as an emergency, that need to answer and to measure. Due to this reason LoosenArt supports some organizations engaged in the field of environmental protection.
The LoosenArt Gallery Artwork offers are not covered by commercial logic widespread in the contemporary art system, where the value of the same artwork reflects the costs to possess it. Our offers are the expression of an interest to reach a common goal, that both the gallery and its artists share. A value, which even more importantly, can be traced in the recognition of a principle rooted in the natural urge to communicate and participate, in response to that innate need for meeting others.
CURRENT CALL(S)
LoosenArt announces a call for entries for its upcoming online and group exhibitions in Rome and/or Milan, Italy:
---
POTCARDS
Deadline: September 16, 2023
Photographers are invited to submit 1 up to 3 shots addressing the theme.
We have almost lost the habit of sending postcards to our family and friends when we are on holidays. Postcards are not only nice pictures of a touristic place, they also represent social, architectural and economic changes through time, years, and decades. Portraying a precise place in a specific time means giving a unique interpretation of what is shown in that picture.
This call would like to reflect and select photographic works somehow working with the concept of the postcard (they can include postcards, can be archive-based research, remake postcards with a modern touch…).
Group Exhibition in Rome city, Italy, December 2023.
APPLY ONLINE – No Entry Fees
Visit LoosenArt online to apply.
Apply for this Opportunity