Art Calls

LoosenArt' Online & Rome, Naples Exhibitions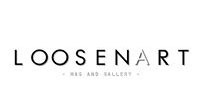 Opportunity Description
International Deadline: Recurring Monthly – LoosenArt is an online gallery and platform dedicated to contemporary visual arts, born and based on principles of contemporaneity, the very same principles in which contact, connection and exchange are prerogatives of a cultural evolution supported by a technology that is the expression of an interest to find new channels to relate directly to the others, an interest to demonstrate an innate need of human contact, where meetings are always something which give rise to something else.
The LoosenArt project provides a space where art finds further support of its role, of its deeper meaning, of it being a channel through which man relates with others, with the world and reality. Being in contact with all of this, means being linked, feeling and grasping what is originated from all reality, so it also means feeling what today we perceive as an emergency, that need to answer and to measure. Due to this reason LoosenArt supports some organizations engaged in the field of environmental protection.
The LoosenArt Gallery Artwork offers are not covered by commercial logic widespread in the contemporary art system, where the value of the same artwork reflects the costs to possess it. Our offers are the expression of an interest to reach a common goal, that both the gallery and its artists share. A value, which even more importantly, can be traced in the recognition of a principle rooted in the natural urge to communicate and participate, in response to that innate need for meeting others.
CURRENT CALLS
LoosenArt announces a call for entries for its upcoming online and group exhibitions in Rome and/or Milan, Italy:
---
MINIMAL. SIGNS AND FORMS OF THE ESSENTIAL
Deadline: June 7, 2022

Photographers, Visual Designers and Video Artists are invited to submit 1 to 3 works addressing the theme.
The aesthetic perception of the matter man relates to in his environment conditions his existence on a daily basis determining his own behavior, choices, ideas and vision of the world.
This call asks for an analytical reading, a visual-conceptual extraction of the things of the world, a minimal reduction aimed at extracting those essential signs, shapes, traces and contrasts that create those structures – often invisible – from which we gather information about their own existence, exposing their nature, their function, and which enrich our knowledge of the world.
Accepted media: Photography, Digital Visual Design, Video
Group Exhibition in Rome city, Italy. September 2022.
---
EXPERIMENTA. THE OTHER PHOTOGRAPHY
Deadline: July 7, 2022
Photographers are invited to submit 1 up to 3 photos addressing the theme.
Paradigm of modernity, since the first half of the 20th century, photography has become a means through which authors such as Florence Henri, Man Ray, László Moholy-Nagy, and many others, offer new visions of reality: all this is done by observing, analyzing and asking questions on several levels, such as a scientific, cultural, and social one, regarding objects / subjects, but also regarding the role and the deepest meaning of the photographic act.
Thanks to the advent of the digital world, its applications and its operational transversality, new techniques, procedures and conceptual approaches to the "writing of light" are today in continuous evolution. Contemporary experimental photography proposes new languages and new aesthetics concerning the experience of man in the relationship with the environment and its perception.
Accepted media: Photography.
Group Exhibition in Rome or Milan city, Italy. October 2022.
---
APPLY ONLINE – No Entry Fees
Visit LoosenArt online to apply to selected opportunity.
Apply for this Opportunity