Art Calls

Online & Rome Exhibitions, Publications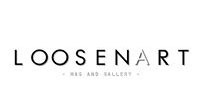 Opportunity Description
International Deadline: July 7, August 7, September 7, 2021 – LoosenArt is an on line gallery and platform dedicated to contemporary visual arts, born and based on principles of contemporaneity, the very same principles in which contact, connection and exchange are prerogatives of a cultural evolution supported by a technology that is the expression of an interest to find new channels to relate freely and more directly to the others, an interest to demonstrate an innate need of human contact, where meetings are always something which give rise to something else.
The LoosenArt project provides a space where art finds further support of its role, of its deeper meaning, of it being a channel through which man relates with others, with the world and reality. Being in contact with all of this, means being linked, feeling and grasping what is originated from all reality, so it also means feeling what today we perceive as an emergency, that need to answer and to measure. Due to this reason LoosenArt supports some organizations engaged in the field of environmental protection.
The LoosenArt Gallery Artwork offers are not covered by commercial logic widespread in the contemporary art system, where the value of the same artwork reflects the costs to possess it. Our offers are the expression of an interest to reach a common goal, that both the gallery and its artists share. A value, which even more importantly, can be traced in the recognition of a principle rooted in the natural urge to communicate and participate, in response to that innate need for meeting others.
CURRENT CALLS
LoosenArt announces a call for entries for its upcoming online and group exhibitions in Rome and Milan, Italy:
FOLKLORE AND TRADITIONS | Call for Exhibition
Deadline: July 7, 2021
The beginning of modernity in the artistic field is marked by the introduction of a perspective vision, thanks to which the figures, within a planar space, are arranged according to an order of depth of field. The object acquires an "internal space", and with this it takes autonomy from the external space and is no longer an object in a space, but is itself the creation of its own space of representation: it becomes removable, and can be displayed in any place. The act of extracting an object / subject, isolated or inserted in imaginary spaces, imposes an evaluative approach oriented on the intrinsic meaning – and aesthetic – of what is exposed, and with it imposes questions such as "how much context is needed for us to categorize an object? How much can be taken away before an object completely loses its identity, before it truly becomes something else?".
Accepted media: Photography, Digital Visual Design, Video.
Group Exhibition in Rome or Milan city, Italy. June 2021.
---
ON MEDIA. SIGNALS AND CONNECTIONS | Call for Exhibition
Deadline: August 7, 2021
Interactions with the environment are increasingly determined by technologies that allow humans to extend their senses, to perceive the world in its different layers of reality. They are the media, means of communication useful for transmitting information about the world in a different and more immediate way. These technologies favor exchange, approach and encounter with one another, and this is an organic approach that responds to a biological need in which our primordial instinct of union is made manifest, the connection between man and the whole – many philosophies try to give an answer to this topic. Since the invention of the wheel to that of the radio, from that of the smartphone to that of the luminous neon, means that determine our relationships and at the same time testify to our being in the world, who we are and who we were.
This call would also like to be an invitation to detach from and to acquire an analytical vision of the relationship with the media, an observation that takes note of their presence and intrinsic function regardless of the use we make of them.
Accepted media: Photographers, Visual Designers and Video artists are invited to submit 1 to 3 works addressing the theme.
Group Exhibition in Rome or Milan city, Italy. November 2021.
---
FREEDOM FOR FREE | Call for Exhibition
Deadline: September 7, 2021
In the modern age we have rediscovered a concept of Freedom increasingly linked to the right to redeem something obtained in exchange for something else. The medium of exchange is money, a bypass for freedom that allows us to satisfy our desires, vices and needs.
It is the same invisible structure within which we lead our existence to propose the windows of freedom, a selection of products and services that summon us to rooms of pleasure, where the dormant senses are stimulated and reactivated to rekindle with our emotions, the only residues of our human nature, that also make us alive.
The protagonists of the art world, as well as any author of any form of free expression, were the first to understand the need to live beyond these structures. This call is an invitation to propose works that testify to this rupture, where freedom is obtained without any exchange, where it is not a product and it is priceless.
Accepted media: Photographers, Visual Designers and Video artists are invited to submit 1 to 3 works addressing the theme.
Group Exhibition in Rome or Milan city, Italy. December 2021.
---
APPLY ONLINE – No Entry Fees
Visit LoosenArt online to apply to selected opportunity.
Apply for this Opportunity