Residency

Hambidge Center' Artist Residencies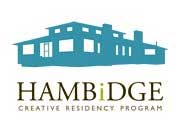 Opportunity Description
International Deadline: Recurring  April 15, September 15, January 15 – The Hambidge Center for Creative Arts and Sciences provides a residency program that empowers talented artists to explore, develop, and express their creative voices.
Situated on 600 acres in the mountains of north Georgia, Hambidge is a sanctuary of time and space that inspires artists working in a broad range of disciplines to create works of the highest caliber.
Apply now for the upcoming season.
ELIGIBILITY
Qualified applicants must be working at a professional level in their field. We seek applications from emerging and mid-career creatives, as well as from those who are established with national and/or international reputations.
Applications for residency are judged primarily on the quality of submitted work samples and professional promise. Hambidge accepts approximately 170 artists each year. There are no publication, exhibition, or performance requirements contingent on a Hambidge residency.
The Hambidge Center encourages creative professionals of all backgrounds to apply for admission. We celebrate varied ideas, world views, and personal characteristics, and are committed to being an organization that welcomes and respects everyone regardless of age, ability, ethnicity, race, religion, philosophical or political beliefs, sexual orientation, gender identity or expression, nationality, geographic origin, and socioeconomic status.
WHEN
Hambidge's Residency Program opens mid-February and closes mid-to late-December through the month of January. Application deadlines are:
Apply from March 1st through April 15th for the September through December residency period.
Apply from August 1st through September 15th for the mid-February through April residency period.
Apply from December 1st through January 15th for the May through August residency period.
FEES & FELLOWSHIPS
Resident Fellows pay $250 per week (of the $1500 per week cost).
Hambidge offers several merit-based Distinguished Fellowships which remove the fees for a two-week residency and provide a $700 stipend. Available Distinguished Fellowships vary from session to session and are listed in the Awards & Financial Assistance section of each session's application. Unless otherwise noted, they are reserved for first-time residents…  See website for current listing.
STUDIOS
Hambidge has 9 secluded cottage/studios which provide living and working space, feature great views, lots of privacy, kitchens and bathrooms.
MEALS
Resident Fellows gather each evening Tuesday through Friday in Lucinda's Rock House for delicious vegetarian fare prepared by our talented chef.
SETTING
Hambidge is located on 600 pristine acres in the Blue Ridge Mountains featuring nature trails, meadows, waterfalls, a swimming hole, an abundance of wild flowers and crisp, clean mountain air.
APPLICATION – $30 Application Fee
Visit Hambidge for more details and online Application. No references required.
105 Hambidge Court
Rabun Gap GA 30568
The Center is funded in part by the Fulton County Commission under the guidance of the Fulton County Arts & Culture, the Georgia Council for the Arts through the appropriations of the Georgia General Assembly, and the National Endowment for the Arts.
Apply for this Opportunity