Art Calls

Art on Loop Exhibit – Berlin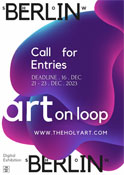 Opportunity Description
International Deadline: December 16, 2023 – The Holy Art Gallery is excited to announce 'Art on Loop Exhibit Berlin' and invite artists from all countries to submit their works for consideration.
The theme for the exhibition is OPEN, giving you the freedom to submit any work that aligns with your artistic vision.
ELIGIBILITY
We encourage artists from any background to submit their work, free of charge. So if you have a piece to share, don't hesitate to send it our way. This exhibition is open to all mediums, including but not limited to painting, photography, printmaking, video art, installation, films, sculpting, mixed media, poems, illustration, and more.
SALES
Please note that we keep 0% commission from any sold work. For purchases of works, we direct the buyers to the artists. If buyers wish to purchase straight from our gallery, we will charge 10% on top to cover bank fees.
FEES
Submitting your work is free of charge. If your work is selected for the exhibition, a fee is requested to secure your spot, £120 incl. VAT for 1 x artwork, £180 incl. VAT for 2 x artwork, £260 incl. VAT for 3 x artwork.
APPLICATION
Visit us online for details
If you have any questions, please feel free to reach out to us at hello@theholyart.com.
---
About:
The Holy Art Gallery has rapidly gained recognition as a leading force in the contemporary and modern art scene, both locally and internationally. As a group of galleries we specialize in curating art exhibitions and art fairs both in the UK and internationally. We are dedicated to providing artists with opportunities to showcase and promote their work.
The Holy Art London: The Factory
21-31 Shacklewell Ln
London, E8 2DA
Apply for this Opportunity