Art Calls

Las Laguna Gallery Call for Art: Icons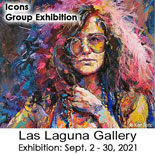 Opportunity Description
International Deadline: August 8, 2021 – Las Laguna Art Gallery is asking artists to explore the notion of cultural and pop icons. A cultural icon is an object made by a human being that is identified by members of a culture as representative of that culture or a physical thing such as the national tree, flower or pastime. Pop icons can be movie stars, recording stars, athletes, or people throughout history that did something notable and are remembered long after their passing.
On display September 2 – 30, 2021.
* * All artists who submit to this show will be accepted and have at least one of their submitted works posted and promoted on our website. A select number of artists possibly will be selected to send their work to the gallery for the in-person exhibition at our brick and mortar gallery in Laguna Beach, California.
ELIGIBILITY & MEDIA
This exhibition is open theme and all local, national, and international artists are encouraged to apply.
Acceptable mediums include: Acrylic, Airbrush, Charcoal, Collage, Color Pencil, Computer Art, Digital Art, Digital Photography, Drawings, Encaustic, Fiber Arts, Glass Art, Graphite, Illustration, Mixed Media, New Media, Oil, Pastel, Pen and Ink, Photo Assemblage, Printmaking, Sculpture, Traditional Photography, Video, Watercolor.
APPLY ONLINE – $35 for up to 3 images
Visit us online to enter.
SALES
Artist Gallery Split: 65% Artist – 35% Gallery.
DATES
Deadline: August 8, 2021
Artist Notification: August 16, 2021
Art Delivery Date: August 26 to August 30, 2021
Artist Reception: Thursday September 2 from 6:30pm to 9:30pm
SHOW RUNS: September 2 to 30, 2021
---
About:
Las Laguna Gallery is a contemporary and fine art gallery that features art from a diverse group of artists representing a variety of mediums. We are dedicated to the exploration and engagement of contemporary and fine art visual culture – regionally, nationally and internationally; through unique collaborations between artists, students and the community. We make it a point to curate artwork that is interesting and engaging to the art collector and the art lover.
Las Laguna Gallery
577 S Coast Hwy – Unit A-1
Laguna Beach, CA 92651
t: 949-667-1803
Apply for this Opportunity