Compete

Marginal Way Fine Art Competition & Gala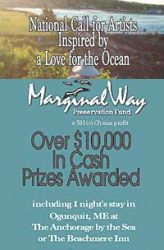 Opportunity Description
U.S. National Deadline: May 16, 2021 – The small resort town of Ogunquit is well known for its beautiful beach, picturesque Marginal Way and its rich history as an art community that is well preserved within the Ogunquit Museum of American Art.
This rich art history continues to evolve as artists, both new and established, discover and explore the inspirational seascapes along the path of the Marginal Way. Preserving its future and maintaining it for all is critical, especially after the frequent and devastating impact of recent coastal storms.
The Marginal Way Preservation Fund's vision is to raise an endowment that will significantly alleviate the burden of the townspeople to fund these major storm repairs thereby allowing all to continue to explore and revel in the picturesque seascapes along the pathway.
CALL FOR ARTISTS
The Marginal Way Preservation Fund is excited to launch our unique fundraiser, a Fine Art Competition and Gala of juried artwork. The Gala will be generously hosted at the Ogunquit Museum of American Art on Sunday, June 27, 2021.
Dollars raised through our Fine Art Competition will help the MWPF with its mission of supporting efforts to preserve this precious seaside vista, artists' haven and handicapped accessible walkway for years to come.
ELIGIBILITY
The competition is open to visual artists, 18 years of age and older at any stage of their careers. Artists are invited to submit in any of the following mediums: painting, photography, drawing, mixed media and print that has been inspired by 'A Love for the Ocean' and painted within the last 4 years.
JURY (see more bios)
Hilary Irons, Gallery and Exhibitions Director at the University of New England
Kenn Erroll Backhaus, a Master Level Artist in both the Oil Painters of America and the American Impressionist Society, and member and past President of the Plein Air Painters of America.
Don Demers, "Fellow" of the American Society of Marine Artists, an elected member of the Guild of Boston Artists, an elected member of the California Art Club, and a signature member of PAPA (Plein Air Painters of America)
Chris Caraviello, Board vice president of the Ogunquit Museum of American Art and owner of Van Ward Art Gallery in Ogunquit.
AWARDS
Cash prizes for the five finalists include; 1st-$5,000, 2nd-$3,000, 3rd-$1,000, (2 awarded 3rd), Honorable Mention-$500 and 1 People's Choice award-$200. Artists can win both the People's Choice and one of the top categories.
The 5 finalists' works will be displayed at a Gala event held at the Ogunquit Museum of American Art on June 27, 2021 .
All 5 finalists are invited to the Gala and will also be awarded 1 night's stay for the evening of the Gala in a 1-bedroom room for 2 at either the Anchorage by the Sea or the The Beachmere lnn in Ogunquit, ME.
APPLY ONLINE
Visit us online for complete details and easy online application.
The 5 finalists will be notified by email on June 13, 2020.
---
About:
The Marginal Way Preservation Fund is a 501(c) 3 nonprofit organization with its mission to build a multi-million dollar endowment for long-term conservation and preservation of Ogunquit's popular Marginal Way. All donations are tax deductible to the full extent of the law.
Marginal Way Preservation Fund
P.O. Box 1455
Ogunquit, Maine 03907
About Venue:
Celebrating its artistic heritage and origins in Ogunquit's art colonies, the Ogunquit Museum of American Art engages and educates a diverse audience by acquiring, preserving, exhibiting, and interpreting American art.
Ogunquit Museum of American Art
P.O. Box 815, 543 Shore Road
Ogunquit, ME 03907
---
Apply for this Opportunity