Internet

Food for Thought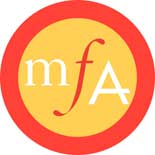 Opportunity Description
International Deadline: September 7, 2022 – From farm to table, from fields and gardens, from land and sea – food sustains our bodies as art sustains our souls. For each person, food has a story and a history. Food can help define our community and sometimes our community needs help being fed. We work as a community to feed our neighbors.
A portion of the proceeds from this show go to support the Anne Arundel County Food Bank. Show us how food has shaped your story through art.
Works selected by the juror will be on display in MFA's online gallery, Curve Gallery, from October 15 – November 30, 2022.
ELIGIBILITY
Entry is open to all artists internationally. Entries are open to all original 2D or 3D art- work. All entries must be original and completed solely by the artist's hand. A maximum of 6 original works created within the past 3 years may be entered. If artwork is part of a limited edition, please state total number in the edition.
Work previously exhibited at MFA Curve Gallery is not eligible for re-entry. There is no size limit for online exhibitions. Work must be for sale.
JUROR
Katie Commodore is a practicing fine artist exhibiting nationally and internationally. She attended the Maryland Institute College of Art, graduating with a BFA in Illustration. She spent time abroad, then returned to school, attending the Rhode Island School of Design, where she earned her MFA in Printmaking. After 14 years in Brooklyn, Katie returned to Providence to reside, and is now Adjunct Faculty at her alma mater and Clark University. As any artist could appreciate, making art is seldom a full-time profession and her professional career includes working as a Studio Manager and Artist/Personal Assistant for Maya Lin, the designer of the Vietnam Memorial in Washington, DC. She has also worked at several museums, including the Aldrich Museum in Connecticut, was a Majordomo for a Boutique PR Firm in NYC, and as the Administrative Director of Crux LCA, a cooperative of Black XR Creatives and Producers that focuses on Black storytelling and creating a foothold in the burgeoning vocabulary of new media of VR and creating Black wealth. She is currently represented by Untitled Space in Tribeca, NYC.
AWARDS
Cash awards total $500.00
ENTRY FEE
1 or 2 entries $35 (MFA Members $20). Additional 4 entries $5 each. Entry fees are non-refundable.
APPLY ONLINE
All entrants will receive notice by email. The notice to accepted artists will include specific details and could vary from prospectus.
SALES
MFA's Online Sales Gallery is provided to North American artists to sell their work. Only artists in the 48 contiguous United States may set a price. MFA will reimburse up to $35 in shipping costs to those artists for online sales shipments if a receipt is provided. All other artists must enter Price on Request (POR) and purchase inquiries will be referred by MFA to the artist.
Artists will retain 80% from sales (85% for MFA Members). MFA will retain 20% commission (15% for MFA Members) on any work sold through MFA. Artists will be responsible for fulfillment of sales.
DATES
Sept 7 Entry deadline
Oct 5 Artists notified by email
Oct 15 First day of the exhibition
Nov 1 Awards Announced @ 5 PM
Nov 30 Last Day of Online Exhibition
---
About:
The MFA incorporated as a 501(c)3 nonprofit organization in 1968 and, through the hard work of a growing and enthusiastic membership, opened the Circle Gallery located at 18 State Circle, just steps away from the State House in Annapolis. The gallery is located in a restored loft space in the heart of the Annapolis Historic District and has been operating continuously since opening its doors. The MFA has also reached out beyond its doors through its Alternate Space efforts, often bringing art to unexpected places.
Maryland Federation of Art
18 State Circle
Annapolis, MD 21401
t: 410 268 4566
Apply for this Opportunity