Compete

Eye of the Beholder: The Art of the Found Object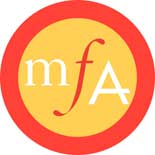 Opportunity Description
International Deadline: April 22, 2021 – Maryland Federation of Art (MFA) invites artists residing in the United States, Puerto Rico, Canada and Mexico to enter its 7th biennial found objects competition.
Eye of the Beholder is a fine art exhibition held to showcase assemblage and collage artwork created from one or more found objects. To name just a few examples – found objects may include the repurposing of street signs, machine parts, bottle caps, recycled paper or fiber, auto parts and imaginative application of household items.
The selected works will be exhibited at MFA's Circle Gallery from June 24 to July 24, 2021.
ELIGIBILITY
Open to artists residing in the United States, Puerto Rico, Canada and Mexico.
A maximum of 6 original works created within the past 3 years may be entered.
Work previously exhibited in a juried show at Circle Gallery is not eligible.
Works may not exceed 72 inches in width, height or depth, including the frame, unless otherwise specified for a particular exhibit.
Please note, artwork that includes but is not constructed of found objects, as well as photographs or paintings of assemblage art are not eligible. Any 2D or 3D work following exhibition guidelines will be considered.
JUROR
Jim Condron earned his MFA at the Hoffberger School of Painting at Maryland Institute College of Art (2004) and a BA in Art and English from Colby College, ME (1992). He also studied at the New York Studio School of Drawing, Painting and Sculpture (1993-'95). Since 1993, Condron has studied with Rohini Ralby, the artist's mentor. His work appears nationally and internationally in galleries and museums as well as in corporate, university, public and private collections and he is known for his painting, sculpture and mixed media… see more
AWARDS
Cash awards total $1,000.
ENTRY FEE
Entry fees are $40 (MFA Members, $25) for one or two entries and $5 each for additional entries. A maximum of 6 original works created within the past 3 years may be entered.
APPLY ONLINE
All entrants will receive notice by email. The notice to accepted artists will include specific details and could vary from prospectus. A list of accepted artists and artwork will also be posted on MFA's website.
SALES
MFA Online Exhibitions are for viewing only. MFA will refer any sales inquiries to the artist. MFA receives no commission for sales resulting from these exhibitions.
DATES
Apr. 22 Deadline for entries.
By May 18 All artists notified by email. Check mdfedart.com or contact MFA if you do not receive notice.
Jun. 16 – 20 Shipped work must arrive at MFA Circle Gallery. Please read the prospectus for more on how to ship your piece.
Jun. 24 First day of exhibition.
Jun. 27 Digital reception. More info on when and where as we get closer to the date.
Jul. 24 Last day of exhibition.
Jul. 25 – 26 Pick up handed-delivered work, 11am – 5pm. There is a $10 fee for late pick up.
By Jul. 28 Shipped work will be sent.
---
About:
The MFA incorporated as a 501(c)3 nonprofit organization in 1968 and, through the hard work of a growing and enthusiastic membership, opened the Circle Gallery located at 18 State Circle, just steps away from the State House in Annapolis. The gallery is located in a restored loft space in the heart of the Annapolis Historic District and has been operating continuously since opening its doors. The MFA has also reached out beyond its doors through its Alternate Space efforts, often bringing art to unexpected places.
Maryland Federation of Art
18 State Circle
Annapolis, MD 21401
t: 410 268 4566
Apply for this Opportunity