Compete

Strokes of Genius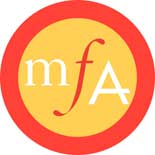 Opportunity Description
International Deadline: September 7, 2022 – A painter creates with head, heart, and hand. The sweep and flow of the brush in that hand conveys all that is in the head and heart of the artist and physical power and emotional tenderness are transmitted to paper and canvas. The brushstroke becomes the artist's voice and communicates with the viewer throughout time.
Works selected by the juror will be exhibited in MFA's Circle Gallery from August 31 – September 24, 2022.
ELIGIBILITY
Maryland Federation of Art (MFA) invites all artists residing in any of the states or territories of the US, Canada, and Mexico to enter our 11th annual all-painting competition, Strokes of Genius. All original 2D work created through any painting media (oil, pastel, acrylic, watercolor, encaustic, etc.) and following entry guidelines will be considered.
A maximum of 6 original works created within the past 3 years may be entered. Maximum size of work, including edges of artwork or frame, cannot exceed 72″ in any direction. Artists may be asked to assist with the installation of oversized work (greater than 60″ or over 40 lbs.).
Work previously exhibited at MFA Circle Gallery is not eligible for re-entry.
JUROR
Jack Rasmussen, Director and Curator of the Katzen Arts Center at the American University Museum
Jack Rasmussen earned his MFA in Painting, MA in Arts Management, and his MA and PhD in Anthropology at American University. He worked at the National Gallery of Art before becoming the assistant director of the Washington Project for the Arts when it opened in 1975.
He opened the Jack Rasmussen Gallery, one of the first commercial galleries to move to downtown Washington, and then helped launch Rockville Arts Place (now VisArts). He served for ten years as the executive director of Maryland Art Place in Baltimore and three years as executive director of di Rosa, a contemporary art museum and sculpture garden in Napa, California. Rasmussen has been director and curator of the American University Museum at the Katzen Arts Center since it opened in 2005. He also currently serves on the Maryland State Arts Council.
AWARDS
Cash awards total $1,000.
ENTRY FEE
1 or 2 entries $40 ($25 for MFA Members). Additional 4 entries $5 each. Entry fees are non-refundable.
APPLY ONLINE
Visit us online for more details and to Apply.
SALES
Artists will retain 70% from sales (75% for MFA Members). MFA will retain 30% commission on any work sold through MFA (25% for MFA Members at the time of the sale).
Work must be for sale. Work may be set to Price on Request (POR).
DATES
Sept 7 Entry Deadline
Oct 4 Notification
Oct 26 – 30 Accepted and Shipped Work Must Arrive at MFA Circle Gallery
Nov 2 Exhibition Opens
Nov 6 Virtual Awards Ceremony from 4 – 5 PM via Zoom
Nov 26 Last Day of the Exhibition; Closing Reception at MFA Circle Gallery from 4 – 6 PM
Nov 26 – 27 Pick-up Hand-Delivered Work 11 AM – 4 PM
Nov 30 Shipped Work Will Be Sent
---
About:
The MFA incorporated as a 501(c)3 nonprofit organization in 1968 and, through the hard work of a growing and enthusiastic membership, opened the Circle Gallery located at 18 State Circle, just steps away from the State House in Annapolis. The gallery is located in a restored loft space in the heart of the Annapolis Historic District and has been operating continuously since opening its doors. The MFA has also reached out beyond its doors through its Alternate Space efforts, often bringing art to unexpected places.
Maryland Federation of Art
18 State Circle
Annapolis, MD 21401
t: 410 268 4566
Apply for this Opportunity