This opportunity listing has expired and may no longer be relevant!
Compete

45th Annual Art on Paper Exhibition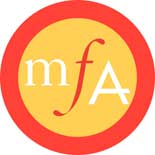 Opportunity Description
International Deadline: January 19, 2022 – Maryland Federation of Art (MFA) invites all artists residing in the United States, Puerto Rico, Canada, and Mexico to enter its 45th annual Art on Paper exhibition.
Works selected will be on exhibit in MFA's Circle Gallery from March 17 – April 9, 2022.
ELIGIBILITY
Open to all artists residing in the United States, Puerto Rico, Canada, and Mexico. Excluding digital photography, any original 2D or 3D work created on or of paper including but not limited to, collage, artist book, origami, printmaking, painting, sculpture, analog photography, and more, will be considered by the juror.
JUROR
Daniel Shay is a sculptor, painter and art educator who exhibits and judges in National and International venues. Visually fluent in styles from academic realism to progressive abstraction, he is the past president of the IASG (International Artist's Support Group) and currently on the advisory board. In 2018 he celebrated his graduation (retirement) from the National Gallery of Art in Washington, DC as Art Services Manager after 34 years. While there his department installed over 500 Special Exhibitions. He received a Smith Travel Fellowship to study the 'Bamboo Art of the Montagnard", native people of South East Asia, from the National Gallery. His first international lecture on his work was at the Pushkin State Museum in Moscow… see more
AWARDS
Cash awards total $1,000
ENTRY FEE
1 or 2 entries $40 (MFA Members $25). Additional 4 entries $5 each. Entry fees are non-refundable.
APPLY ONLINE
Visit us online for more details and to Apply.
SALES
Work must be for sale. Artists will retain 70% from sales (75% for MFA Members). MFA will retain 30% commission (25% for MFA Members) on any work sold through MFA. Work may be set to Price on Request (POR).
DATES
Jan 19 Entry deadline
Feb 15 Artists notified by email
Mar 9 – 13 Work must arrive at MFA Circle Gallery
Mar 17 First day of the exhibition
Mar 20 Virtual awards presentation @ 4 PM
Apr 9 Last day of the exhibition; Possible closing reception @ 4 PM
Apr 10 – 11 Pick-up handed-delivered work, 11 AM – 4 PM
Apr 13 Shipped work will be sent
---
About:
The MFA incorporated as a 501(c)3 nonprofit organization in 1968 and, through the hard work of a growing and enthusiastic membership, opened the Circle Gallery located at 18 State Circle, just steps away from the State House in Annapolis. The gallery is located in a restored loft space in the heart of the Annapolis Historic District and has been operating continuously since opening its doors. The MFA has also reached out beyond its doors through its Alternate Space efforts, often bringing art to unexpected places.
Maryland Federation of Art
18 State Circle
Annapolis, MD 21401
t: 410 268 4566
Apply for this Opportunity