This opportunity listing has expired and may no longer be relevant!
Art Calls

Water Becomes Blood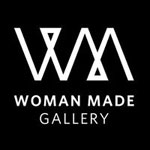 Opportunity Description
International Deadline: April 18, 2021 – Woman Made Gallery is seeking submissions for our May-June 2021 group exhibition juried by Aliya Parashar and Zakkiyyah Najeebah. This exhibition will be held at the gallery and online. Submissions will request the submitter to select participation in (a) the hybrid presentation (at the gallery and online) or (b) the virtual exhibition only.
Water Becomes Blood is an exhibition that centers on chosen families in LGBTQIA+ communities. When safety is not always promised in blood relations, chosen families can create a space that centers around the security of their individuals. These families host love, joy, and acceptance at their core via unquestioned support. This allows members to explore and self-actualize in the form of true liberation. They also provide room for members to question themselves and the greater community during the process of their journey. Woman Made Gallery is looking for work that represents and appreciates these invaluable connections.
On display May 27 – June 27, 2021.
ELIGIBILITY
Woman Made Gallery is a space for Women, Womyn, and Womxn identifying artists from our local community, regionally based, and around the world. We welcome art from all womxn, including trans women and femme/feminine-identifying genderqueer and non-binary artists. *Woman Made gallery recognizes that the LGBTQIA+ community is hosted by a multitude of identities and is extending applications to all encompassing individuals.
No work may exceed 6' horizontally or be over 75 pounds in weight unless delivered and picked up by the artist. WMG will refuse receipt of art that is heavier than 75 pounds.
JURORS
Aliya Parashar (she/her) – Aliya Parashar is an interdisciplinary artist who works in mediums of fibers + materials and installation art in order to communicate the intersection of gender identity, post-colonial theory, and mythology. She strives to strike a balance between celebrating femininity and honoring bodies while creating a vision of resistance through garments and fiber production. Her work has been featured in SHUBA, Paper, Post, Crux, and Posture Magazine with her most recent show taking place at ACREprojects in 2019. Aliya holds a BFA from the School of the Art Institute of Chicago after transferring from Otis College of Art and Design. She is now pursuing her MA/MFA dual degree at the California College of Arts in San Francisco.
Zakkiyyah Najeebah Dumas O'Neal – Zakkiyyah Najeebah Dumas O'Neal is a Chicago-based visual artist, educator, and independent curator. Zakkiyyah's work is most often initiated by personal and social histories related to family legacy, queerness, community making, and interiority. Zakkiyyah's practice borrows from visual traditions such as social portraiture, video assemblage, and vernacular found family sourced materials. Currently, Zakkiyah's body of work prioritizes social relationships related to queerness, Black women's identity formation, family, social architectures, and the desire for connectedness. Zakkiyyah is a Co-founder of Concerned Black Image Makers, a collective-driven project that prioritizes shared experiences and concerns by lens-based artists of the Black diaspora; and most recently has been featured in exhibitions at South Bend Museum of Art, Goldfinch Gallery, Blanc Gallery, Glass Curtain Gallery, ADDS DONNA, and Zhou B. Art Center.
ENTRY FEE
The submission fee for Boundaries is $30. Only one submission may be entered per artist. Each submission requires one artwork, though up to three artworks may be considered per submission.
We like to receive entries of recent works, but there is no restriction in the creation date. Accepted artworks must not exceed 48″ horizontally and must not have been previously shown at WMG.
SALES
Accepted work may be listed for sale, though is not required. WMG will retain a 40% commission on sold works. Work remains the property of the artist until sold. Sold artworks shall remain in the exhibition until the end of the exhibition.
---
About:
Woman Made Gallery is a tax-exempt, not-for-profit organization founded in 1992. Its goal is to cultivate, promote and support the work of female-identified artists by providing exhibition opportunities, professional development, and public programs that invite discussion about what feminism means today. More than 8,000 women artists have exhibited their work since WMG was established. WMG welcomes the participation of people of all gender expressions and orientations as artists and program participants, members and supporters.
Woman Made Gallery
2150 S Canalport #4A-3
Chicago, IL 60608
t: (312)-738-0400
---
Apply for this Opportunity