This opportunity listing has expired and may no longer be relevant!
Art Calls

Feminist Biennial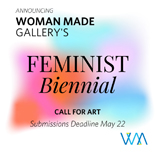 Opportunity Description
International Deadline: May 22, May 31, 2022 – Woman Made Gallery seeks submissions for the first iteration of The Feminist Biennial. This is a group exhibition juried by Ashley Wynn (Recent Director at Monique Meloche Gallery, Board Member at LATITUDE Chicago).
The Feminist Biennial is a bi-annual exhibition at WMG that puts forward reflections and evolutions of contemporary feminism, as a movement and personal subjective act. It highlights artistic excellence by artists working in any medium and who identify as women and non-binary artists, including trans women and femme/feminine-identifying genderqueer artists.
As legendary historical moments, the first three waves of feminism are well theorized and widely known. The first, woman's suffrage; second propelled forward by the civil rights act, woman's sexual and financial freedom; and the third the rise of queer theory, race justice and intersectionality within the feminist moment and sex positivity.
Now speculating the fourth wave, which has yet to be theorized and is less understood, WMG asks what does it mean to be a feminist today? At its core, feminism has been and continues to be a personal and collective reclamation of power in a patriarchal world that undervalues and devalues feminine-presenting expressions of self. It is a lived experience, a daily act, and held in community to makes sense of the world through a feminist lens. WMG's Feminist Biennial as an exhibition seeks to provide a platform for marginalized voices to put forth artwork that explores feminist thought, action, intersectionality and lived experience in 2022.
As a juried exhibition, each iteration of the Feminist Biennial offers applicants the unique opportunity to have their work reviewed by esteemed arts professionals and industry connectors. The exhibition then results from a highly selective juried competition and presents work across career levels.
This exhibition will be held at Woman Made Gallery located at 2150 S. Canalport Ave., Chicago, IL 60608 in the Pilsen neighborhood, September – November 2022.
ELIGIBILITY
Woman Made Gallery seeks artwork in all mediums. We encourage intersectional feminist approaches and lived experiences considering gender and sexuality, race, ethnicity, class, and/or disability, among other social locations.
JUROR
Ashley Wynn is an independent arts professional living in Chicago, IL. Formerly the director of contemporary spaces in Los Angeles and San Francisco, and most recently the director at Monique Meloche Gallery in Chicago, Wynn has collaborated with established and emerging artists on projects and exhibitions operating across the disciplines of art and performance. From 2017 – 2019 Wynn held positions at MoMA PS1 and MOCA, where she assisted with curatorial work focused largely on the intersection of art and politics, facilitating commission projects, architectural installations, site specific performances, and film installations from a diverse array of contemporary artists. She holds a bachelor's degree in Art History from UCLA and currently sits on the board of LATITUDE Chicago.
AWARDS
$1,000 in awards including the Best of Show cash prize of $500, a two-person exhibition at Woman Made Gallery scheduled for May 2023.
ENTRY FEE
The submission fee is $30 until the first deadline. The submission fee will then increase to $35 per submission for an extended deadline .
WMG offers fee waivers to those that request the need and upon approved application. WMG offers 25 fee waivers in total.
SALES
Accepted work may be listed for sale, though is not required. WMG will retain a 40% commission on sold works. Work remains the property of the artist until sold. Sold artworks shall remain in the exhibition until the end of the exhibition. Artists will be paid no later than 30 days after the close of the exhibit.
---
About:
Woman Made Gallery is a tax-exempt, not-for-profit organization founded in 1992. Its goal is to cultivate, promote and support the work of female-identified artists by providing exhibition opportunities, professional development, and public programs that invite discussion about what feminism means today. More than 8,000 women artists have exhibited their work since WMG was established. WMG welcomes the participation of people of all gender expressions and orientations as artists and program participants, members and supporters.
Woman Made Gallery
2150 S Canalport #4A-3
Chicago, IL 60608
t: (312)-738-0400
Apply for this Opportunity