Art Calls

Woman, Life, Freedom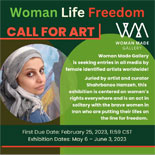 Opportunity Description
International Deadline: February 25; March 4, 2023 – Woman Made Gallery (WMG) seeks entries for the Woman, Life, Freedom exhibition, juried by Shahrbanoo Hamzeh and on display from May 6 to June 3, 2023.
The exhibition will be held at Woman Made Gallery, located in the Pilsen neighborhood at 2150 S. Canalport Ave., Chicago, IL 60608.
ELIGIBILITY
Woman Made Gallery is a space for women and nonbinary artists, including trans women and femme/feminine-identifying genderqueer artists. We welcome art from women and non-binary artists from our local community, regionally based, and around the world.
Due to wall size restrictions, artworks must fall within 6' horizontally and under 75 pounds in weight, unless delivered to and picked up from our 4th floor gallery by the artist. Artists may be additionally responsible for the installation of oversized works.
New media artworks are eligible. To be considered, artists must submit a sample .mp4 or URL under 10 mins for purposes of consideration. For exhibition, WMG requires a digital transfer (Google Drive, Vimeo downloads, WeTransfer) as well as a USB formatted in .mp4 file format delivered to the gallery. WMG can provide a limited number of media players, Epson projectors and TV monitors with basic speakers. All other new media needs are the responsibility of the artist.
JUROR
Shahrbanoo Hamzeh is a studio artist and curator currently working as a galley coordinator at Joe McCauley Gallery at Heartland Community College, Normal, IL. She holds an MFA from Illinois State University. Prior to this, she has received a master's degree in Painting from Alzahra University, Tehran, Iran. Her Undergrad degree was focused on Iranian Art and Culture from Kashan University, Kashan, Iran.
Her practice is mostly focused on human rights violations in her home country, Iran, especially towards women. She believes it is not easy to be an Iranian woman, not in Iran, nor anywhere else. Her homeland is facing a myriad of problems and conflicts, which is why her works are focused on the ideas of home, home country, leaving, loss, safety, longing, and recently the Iranian woman-led revolution.
ENTRY FEE
The entry fee is $30 until the first deadline. The entry fee will then increase to $35 per entry for an extended due date. Each entry requires a minimum of one artwork, though up to three artworks may be considered per submission. Entry fees are non-refundable.
WMG offers fee waivers to those who request the need. WMG offers up to 30 fee waivers per exhibition.
SALES
Accepted work may be listed for sale or be not for sale (NFS). WMG will retain a 40% commission on sold works. Work remains the property of the artist until sold. Sold artworks shall remain in the exhibition until the end of the exhibition. Artists will be paid no later than 30 days after the close of the exhibit.
DATES
Exhibition Dates: May 6 – June 3, 2023
Opening Reception: Saturday, May 6 at 4-7 PM CST
First Entry Due Date: February 25, 2023, 11:59 PM CST
Extended Due Date (fee increase to $35): * March 4, 11:59 PM CST
Notification: March 18, 2023
---
About:
Woman Made Gallery is a tax-exempt, not-for-profit organization founded in 1992. Its goal is to cultivate, promote and support the work of female-identified artists by providing exhibition opportunities, professional development, and public programs that invite discussion about what feminism means today. More than 8,000 women artists have exhibited their work since WMG was established. WMG welcomes the participation of people of all gender expressions and orientations as artists and program participants, members and supporters.
Woman Made Gallery
2150 S Canalport #4A-3
Chicago, IL 60608
t: (312)-738-0400
Apply for this Opportunity