This opportunity listing has expired and may no longer be relevant!
Compete

Real! A Juried Exhibition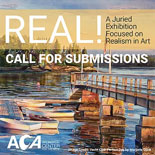 Opportunity Description
U.S. National Deadline: September 30, 2021 – The Arlington Center for the Arts seeks submissions for its upcoming exhibition REAL!
This exhibition focuses on the beauty and appeal of artistic realism, where the subject matter of the work is presented without artifice, accepting and portraying the subject matter as seen, finding beauty and interest in the everyday world. Historically, highly representational art has fallen in and out of favor and popularity, but it has enjoyed a continuous following of those who find pleasure, value and meaning in seeing what is.
On display October 21, 2021 – January 14, 2022.
ELIGIBILITY
Artists must be over 18
Media accepted include Drawing, Painting, Printmaking, Mixed Media, and Sculpture. Artists may inquire regarding eligibility of other mediums.
Work must not have been shown in the ACA gallery within the last three years.
2D work must be no wider than 48" and all 3D work should be no larger than 12" wide/deep.
Submitted work must be wired and ready to hang or install.
JUROR
Phil Young is an accomplished painter and respected art educator based in Arlington. He has long been intrigued by landscape and seascape forms which, along with a strong emphasis on color relationships, are the basis for his abstract work. He explores the richness and vibrancy of color, the way new paint overlaps existing color and creates exciting new color relationships. Phil has exhibited widely in the region, at Galatea Gallery, SOWA, the Rocky Neck Art Colony, Cambridge Art Association, Arlington Center for the Arts, the Attleboro Arts Museum ("8 Visions", 2016), and most recently in a two-person show at the Concord Art Association. As an art teacher and head of Burlington HS Art Department, Phil taught and encouraged a wide range of young artists. He received a B.S. in Art Education from SUNY Buffalo and an M.S. in Studio Art (painting) from the University of Wisconsin, Madison
AWARDS
There will be prizes awarded to artists selected by the Juror and Curators and presented at the Opening Reception. Awards include the Juror Award, the Curators' Award, and the Play Time Award, sponsored by Play Time Arts & Crafts.
SUBMISSION FEE
ACA Members: $30 for up to 3 works; Non-Members: $40 for up to 3 works.
Artist Notifications: Wednesday, October 6 by 9PM EST
---
About:
The Arlington Center for the Arts is a community arts center devoted to the mission of transforming lives and building community through the arts. ACA was established in 1988 by a visionary group of artists, writers, musicians and educators as a place where artists could share their work with the community through educational and outreach programs.
Arlington Center for the Arts
20 Academy St
Arlington, MA 02476
(781) 648-6220
Apply for this Opportunity