This opportunity listing has expired and may no longer be relevant!
Art Calls

Art in the Orchard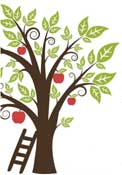 Opportunity Description
U.S. National Deadline: April 1, 2021 – Outdoor Sculpture and Installations: Art In the Orchard (AIO) is seeking sculptures and installations for its Sixth Biennial outdoor exhibit in Easthampton, Massachusetts. This biennial is expected to draw more than 20,000 visitors from August 10th to November 28th and feature 30 works.
ELIGIBILITY
Art in the Orchard is open to any artist who can exhibit a durable outdoor work. Sculptors may submit up to three different works (include one application for each sculpture submitted). Only one work per artist will generally be accepted.
Sculptures must be suitable for sustained outdoor display, be able to withstand extreme weather conditions such as high winds, rain storms, wildlife, sun and the general public, including children.
BENEFITS
Selected artists will receive a $500 honorarium (totaling $15,000). A residency is possible in July, upon inquiry, for artists who need to be on-site while they create installations conceived for this setting.
Work containing elements of the whimsical, absurd, or surreal and those that elicit emotional responses are encouraged, as well as kinetic and site-specific work. AIO was awarded the prestigious Gold Star Award for exemplary community arts project.
SELECTION CRITERIA
The exhibition will include both invited and juried sculptors. The jury's selection criteria will include:
Conceptual strength, originality and craftsmanship
Integration of themes: Absurd, Surreal, Whimsical, and/or Emotional
Kinetic or site specific works
Past public exposure of the sculpture
Exhibition diversity and general fit for this rural setting
Installation feasibility, appropriateness for the site, public safety
APPLY ONLINE – $20 submission fee
TIMELINE
April 1 Deadline for Applications
May 1 Notification of Jury Selections
July 15 – 31 Installation by Appointment
August 1 – Nov 28 Exhibition and Events
August 15 Opening Reception*
August 22 Full Moon Walk*
November 28 Closing Day
TBD Awards Ceremony & Festivities
---
Apply for this Opportunity