This opportunity listing has expired and may no longer be relevant!
Ezine/Print

Art & Literature Journal: Portraits International Call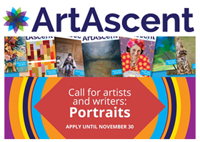 Opportunity Description
International Deadline: November 30, 2022 –  ArtAscent Art & Literature Journal  is a theme-based, juried, bi-monthly, international art magazine that showcases exciting emerging and indie artists and writers from around the world. ArtTreasury Collector's Annual is a magazine that captures a snapshot of the year's work in art from around the world.
CURRENT CALL: PORTRAITS INTERNATIONAL
Portraits of people and animals tell such great stories. They evoke emotion. They suggest deeper meaning. They tell us about someone else, and maybe even ourselves. Sometimes they're just beautiful. Or shocking. Or surprising. Share your PORTRAITS with words or imagery.
ELIGIBILITTY
All artists 18 years and older can apply. Submitted work can include visual art – paintings, drawings, photography, mixed media, digital, printmaking, installations, ceramics, fabric, jewelry, sculpture, and other 2- and 3-dimensional media – and written art – fiction, poetry, short stories and other written explorations (up to 1,800 words).
Your submission must be your original creation.
BENEFITS
If your work is selected you will be:
Announced as one of the selected artists/writers in the ArtAscent newsletter.
Published in ArtAscent Art & Literature Journal – a beautiful collectable keepsake that is available in digital and print long after the release date. Your showcase includes your artist/writer website link and at least one of your submitted pieces.
Showcased for at least two years on the ArtAscent website online exhibition, including your artist/writer website link.
Listed by name online for at least two years on the ArtAscent website artist/writer listing directory.
Promoted on the ArtAscent Facebook, Twitter, Pinterest and Instagram sites (unless you opt out in the application form)
See more
APPLY ONLINE – $25 Entry fee
All work is evaluated based on the vision as relates to the submission theme. Submissions including diverse interpretations of the theme will be considered. The beauty of art is that 100 artists can look at the same thing and interpret it in completely unique ways. That's what can make it breathtaking.
Apply for this Opportunity