This opportunity listing has expired and may no longer be relevant!
Compete

3rd Annual Art Explosion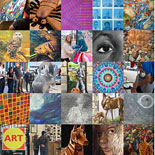 Opportunity Description
International Deadline:  July 15, 2021 – The Great Northern Art Explosion is a public art exhibition and contest organized by AuSable Artisan Village art center in Grayling, MI.
The goal of Art Explosion is to showcase Grayling as an art destination and to use the arts to generate activity in the downtown area.
100 selected artists will display their artworks in downtown Grayling for a chance at $10,000 in prizes. The public will vote to determine the grand prize winner and 2nd place winner. A juror will determine three additional award winners.
On display Aug 28 – Sep 12, 2021.
ELIGIBILITY
Art Explosion is an open, international contest – any artist age 18 and up can participate regardless of location.
Works submitted may be in any medium: drawing, printing, installation, painting, photography, digital art, sculpture, mixed media, decorative art (textiles and material, glass, wood, metal, ceramics, mosaic, paper or other techniques). However, the Organizer cannot guarantee to accommodate specific or specialized needs such as specialized lighting or site specific power source.
No specific theme is imposed on the works of art submitted by the artists.
Any artwork submitted must be created within the last two years.
JUROR
Valerie Allen is a curator, juror and professional artist living in Michigan. She is curator of Studio 23 in Bay City, MI and a certified working artist for Golden Artist Colors of New Berlin, New York. She has lectured regionally and exhibited her work nationally.
Valerie's recent juried exhibits include Anton Art Center's Michigan Annual XLVIII, Ann Arbor Women Artists Summer Show, Brighton With Art 2021, Midwest National Abstract Art Exhibition by Indiana's Southside Art League, and Midland Center for the Arts Summer Art Fair.
AWARDS
Connie & Jim Sutika Grand Prize – $5,000
Kirtland Community College 2nd Prize – $2,000
Best of Show Juror Award – $1,500
Paddle Hard Brewing Juror Award – $1,000
Juror Award – $1,000
APPLY ONLINE – $40 entry fee
Artists will be notified of their acceptance status by July 22.
SALES
Artists may offer their Art Explosion exhibition entry for sale to the public. The Organizer will list the price of any artwork for sale on the Art Explosion website and at the exhibit.
---
About:
AuSable Artisan Village is a non-profit art center, offering a retail art gallery with dozens of Michigan artists, concerts, community theatre, improv comedy, and art classes.
Our purpose is to initiate and support art & creative activities that stimulate economic & cultural development of the Grayling community & Northern Michigan region.
219 Michigan Ave
Grayling, MI, 49738
Apply for this Opportunity