Grants

The Biafarin Awards: $10,000 Artist Grants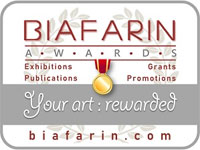 Opportunity Description
International Deadline: October 9, 2021 – The Biafarin Awards is an annual international art competition with multiple cash grants and prizes, open to visual artists working in any medium worldwide.
In the last season of 2021, Biafarin, the Canadian artist development company that has collaborated and sponsored over 100 art events, intends to reward international visual artists' efforts for all their hard work to elevate awareness and justice and keep hope, peace, and happiness alive via their art in this challenging time.
Submit to Biafarin Awards to gain global exposure for your art and win USD 10,000 value of prizes.
ELIGIBILITY
Participating in this opportunity is open to all visual artists worldwide. Artworks must be entirely the work of the entrant, executed without the supervision of an instructor.
All art media including drawing, painting, printmaking, photography, digital art, fiber art, sculpture, mixed media, etc. are accepted. All styles are welcome. There is no size limit for submitted artworks.
Entries must not be copies or derivatives based in any way on other copyrighted or published paintings, photographs or other artistic work. Any infraction of this rule will result in serious consequences.
Artist should have all the rights for presenting and publishing the artworks internationally.
AWARDS
Biafarin Awards includes US$ 3,000 cash prizes for 3 artists, annual Blue and Gold artist promotion packages for 6 artists with the total value of US$ 2700, publication in The Book of Arts series for all selected artists, an international online group exhibition for around 100 selected artworks, and a promotional program that includes social artwork media badges, news circulation in art media, press release send out, digital certificates, and a colorful, stylish exhibition catalogue.
ENTRY FEE
US$ 40 for 1 to 5 artworks.
APPLY ONLINE
Visit us online for more details and easy online Application.
---
About:
Biafarin means "Create" in the ancient empire of Perse, ruling in the 6th century BC, which has been one of the richest art heritages in the world's history. We have chosen this name to represent our deep admiration for creations, creators and creatures around the world.
Biafarin Inc. is a registered Canadian business in Ontario. We offer our services through Biafarin.com; which is an artist management platform, established to help artists worldwide to present their artistic career, promote their art, sell their artworks and create more revenue from new channels.
As a resourceful multi-layered art marketplace, Biafarin ecosystem includes a multi-lingual portal, support team and a network of art businesses.
Apply for this Opportunity