This opportunity listing has expired and may no longer be relevant!
Internet

B.J. Spoke Gallery' Paperworks 2023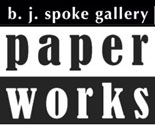 Opportunity Description
International Deadline: May 24, 2023 – B.J. Spoke Gallery announces 'Paperworks 2023', a juried competition for fine artists across the globe. The exhibition will be virtual with a virtual reception on Zoom.
The virtual show dates will be July 1 through 31, 2023.
ELIGIBILITY
Artists who use paper as their primary medium, as a substrate, or as the subject of a video. All entries to the Paperworks 2023 competition must be the original work of the artist. Artist will be allowed to submit up to 6 images and/or 2 videos. Submissions must be the original work of the artist.
Open to works made on paper, of paper or about paper: cut paper, folded paper, woven paper, glued paper, drawings, paintings, pastels, printmaking, photographs, paper sculpture, 3D, bound books, collage, mixed media, video, and installation.
JUROR
The juror is Emily Olek, a Curatorial Assistant in the Department of Drawings and Prints at the Museum of Modern Art, New York… see more
AWARDS
b.j. spoke gallery will promote the virtual show and display the finalists work on the gallery website (bjspokegallery.org) and social media platforms.
Cash prize for First Place is $300, $200 for Second Place and $100 for Third Place.
A Zoom Reception and Awards Presentation will be held on Saturday, July 8, 2023 (7pm EST), for artists, their guests and the public, at which time the award winners will be announced
ENTRY FEE
$35.00 for up to 6 images and/or 2 videos.
APPLY ONLINE
Find full details on our website
Finalists will be notified by June 7, 2023.
---
About:
B.J. Spoke Gallery is a member owned and run, not-for-profit 501(c)3 gallery of professional artists with a broad diversification of styles and media. Our artists have won numerous awards, been featured in press and media, taken roles as teachers, mentors, and exhibit jurors, and are represented in public and private collections.
B. J. Spoke Gallery has maintained a reputation as a prestigious gallery and has sustained an image of excellence in reviews in New York's Newsday and The New York Times. After nearly 50 years, our reputation continues to be one of artistic expertise, resilience, empowerment, and community engagement.
b.j. spoke gallery
299 Main Street
Huntington, NY 11743
Apply for this Opportunity