Art Calls

Boomer Gallery: Contemporary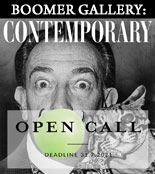 Opportunity Description
International Deadline: July 31, 2021 – Boomer Gallery announces a worldwide call for artists submissions for its upcoming exhibition, 'Contemporary'. This will be a physical event and it will take place in our new gallery space in Tower Bridge-London.
Have you ever wondered if your art is good enough?
There is no secret that most of the artists have this inner dialogue where they ask questions and compare their work with those of their idols and this brings a lot of confusion and anxiety- "Is My Work Good Enough, Is It Contemporary"?
Well- any work of art in any style has the potential to become great even a simple line on a piece of paper and even the great artists that are now Legends had the same questions during their life.
The purpose of this exhibition is to create a dialogue between artists, artworks and the audience and to demonstrate that any form of art in any style can be successful.
VENUE
We are really pleased to let you know that in collaboration with @constantin.lll we have opened our second gallery space.
The new space is located in Tower bridge, one of most iconic places in the world and the most visited place in the whole UK. With a blend of traditional Victorian brick walls and a central private bar just for our audience, the space is unique in the whole city of London. The new space is nestled between modern and classic London icons: The Shard 4 minutes away, Tower Bridge 1 minute away, London Bridge 2 minutes away.
ELIGIBILITY
Open to artists worldwide, everyone is welcome to apply. There are no subject restrictions. Eligible media includes, but not limited to:
painting
sculpture
photography
digital art
prints
textile
illustrations
SUBMISSION FEE
To make a submission is absolutely free but we do charge a £165 fee for each participating artist as we only charge 15% sales commission and that includes: printed catalogs, admin, graphics, designer, champagne, mix finger food, caviar, professional photographer, hostess, and security.
SUBMISSION GUIDELINES
Visit us online for complete details.
We had a lot of enquires from foreign artists to exhibit with us but sometimes shipping the work to London in time might be a bit difficult in this challenging period, that's why we've come up with an alternative! If you are one of the accepted artist and you find it hard to ship your work to us, you can send us photos of your work and we can print and frame it for you… see details
DATES
the open call will run until July 31.
artworks delivery date is 05 August.
the exhibition will run from 06 August until 14 August with a private view on 06 August- 6:00 to 9:00 pm at our gallery space in Central London.
---
About:
Boomer is a London based art gallery created by a group of British artists and art enthusiasts who aim to transcend the gap between culture and countries, highlight the best hidden gems out there and push the boundaries forward".
Our gallery space is situated right in the heart of artistic London | Aldgate. A cosmopolitan place where great artists like Francis Bacon and Freddy Mercury use to work and hang out, here the art vibe is on every corner, on every building, on every face, on every smile.
3-15 Whitechapel Rd
London E1 1DU, Unit 308
Apply for this Opportunity