Art Calls

Vogue: Call for Artists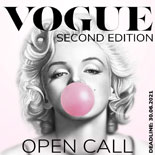 Opportunity Description
International Deadline: June 30, 2021 – As some of you might know, every time an exhibition is very successful we will have a second edition with the same theme and for our next show we have "VOGUE"- Second Edition. This will be a physical event and it will take place in our gallery in Central London. The purpose of this exhibition is to find out what is the current trend in contemporary art and how each artist feels is the right approach to a successful career.
ELIGIBILITY
Open to artists worldwide. There are no subject or medium restrictions, everyone is welcomed to apply. Eligible media includes, but not limited: painting | sculpture | photography | digital art | Installation | video | prints | textile | ceramics.
BENEFITS & FEES
To make a submission is absolutely free but we do charge a £165 fee for each participating artist. We only charge 15% sales commission and that includes:
printed catalogs
admin
graphic designer
champagne
mix finger food
caviar
professional photographer
hostess
security
SUBMISSION GUIDELINES
To apply for "Vogue" simply email us 3 images of your work (3 different works) Title_ Size_ Medium_ Price and a short bio, no more than 150 words.
Visit us online for complete details and submission email address.
DATES
the open call will run until June 30.
artworks delivery date is 08 July.
the exhibition will run from 09 July until 16 July with a private view on 09 July- 6:00 to 9:00 pm at our gallery space in Central London.
---
About:
Boomer is a London based art gallery created by a group of British artists and art enthusiasts who aim to transcend the gap between culture and countries, highlight the best hidden gems out there and push the boundaries forward".
Our gallery space is situated right in the heart of artistic London | Aldgate. A cosmopolitan place where great artists like Francis Bacon and Freddy Mercury use to work and hang out, here the art vibe is on every corner, on every building, on every face, on every smile.
Boomer Gallery
3-15 Whitechapel Rd
London E1 1DU, Unit 308
Apply for this Opportunity