Residency

Centre Pompadour Laboratory of Neofeminism Residencies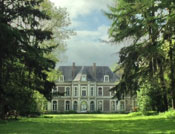 Opportunity Description
International Deadline: April 28, 2022 – CENTRE POMPADOUR, the laboratory of neo- feminism, welcomes like-minded creative professionals from all over the world to work on projects that place gender equality and feminist empowerment at the heart of the creative process and outreach. it offers accommodation and private work space for a determined period of time.
The center functions as a post-capitalistic undertaking which means flexible fees for its residents. It is up to you to propose the amount you would like to pay for your creative residency.
If you are interested in joining the creatives-in-residency program which runs May through September, you should be currently pursuing arts of any skill or mastery (visual arts, applied arts, writing, music, research on feminism or gender politics,…) and identify with a neofeminist outlook on the world.
WHY
CENTRE POMPADOUR offers a lot of privacy, surrounded by a lot of nature. the three guest rooms each have their own private bathroom. other facilities include a top-floor attic atelier of 50m2, a well assorted library of women's history readings and art literature, a well-tuned piano, and spacious indoor and outdoor living areas intended to be filled with creativity. Presuming the calm of the French countryside gets you inspired and doesn't trigger your yawning reflex, this is the right place for you.
WHERE
CENTRE POMPADOUR, laboratory of neo- feminism, is located in the tiny village of Ercourt, which is situated in the Baie de Somme area, a nature reserve of the french Picardie.
Picardie is a region that has been at the heart of european history for well over a thousand years, though its historic heritage includes some of the finest mediaeval cathedrals in France, a lot of châteaux and many sites of the great war, it is not one of the great tourist regions of France.
Neighbouring Normandy and only 12 km away from the seacoast, you can either reach CENTRE POMPADOUR by car (200 km to Paris, 290 km to Bruxelles, 260 km and some water to London) or by train (the nearest train stop is Abbeville).
The next grocery store and café are 5 km away, the nearest little town is 12 km away, the nearest seaside restaurants are 22 km away.
WHEN
The creatives-in-residency program runs from the 25th of June through 11th of September in 2022. For any different periods during the year or a different lengths of your stay, please submit a special request.
We accept residencies of minimum 3 weeks up to maximum 2 months.
HOW
To qualify for the creatives-in-residency program at CENTRE POMPADOUR, laboratory of neofeminism, you have to be a creative professional or an undergraduate or graduate art student or do research in the fields of feminism or gender studies.
FEE
The residency fee per person and per week (for a room with private bathroom, linens and towels, breakfast Monday to Friday and 1 weekly vegetarian château dinner included, bikes, shared studio space and transportation to and from the train station in Abbeville) is 600€.
Your application will be revised by the advisory board of the creative residency which, for the residency season of 2022, consists of a writer, a curator and two multidisciplinary artists. All finalists will be interviewed via skype.
Centre Pompadour Laboratory of Neofeminisme
9 rue du château
80210 Ercourt
FRANCE
Telephone : 0033.7.88.37.36.84
Apply for this Opportunity