This opportunity listing has expired and may no longer be relevant!
RFP/Q's

E.H. Young Riverfront Park Entry Signage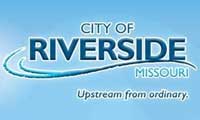 Opportunity Description
International Deadline: November 19, 2021 – The City of Riverside is located in the Kansas City Metropolitan area. Riverside is a thriving community with a focus on meeting citizen needs and providing a high quality of life for all residents. We believe City beautification through art is key to enhancing the quality of life.
This call is for artistic entry signage for E.H. Young Riverfront Park. The following goals should be accomplished:
Be an attractive feature that welcomes visitors to the Park.
Assist Park patrons in knowing that they have arrived at the Park.
Include the name of the Park: E.H. Young Riverfront Park
Be a standalone structure, not attached to the levee wall.
The selection panel will select 1 artist or artistic team to provide the commissioned art for the entrance of E.H. Young Riverfront Park.
ELIGIBILITY
Open to all artists 18 years of age and older. All entries must be original work. Emerging and professional artists are encouraged to apply.
AWARD
The City will provide $50,000 for the purchase of the art. Payment will be made once the art has been delivered and installed. A split payment for initial project supplies may be negotiated.
CRITERIA & SPECIFICATIONS
The art must be of a size to ensure visibility and recognition. If a sculpture, it must be free standing, suitable for permanent public display. Acceptable media include, but are not limited to bronze, stone, mosaic, wood, fiberglass, concrete, stainless steel, aluminum or other metals. The safety of the public must be considered.
Work should be as vandal‐proof as possible. Approval of artwork will be contingent on satisfactorily addressing liability issues and assuring structural integrity. A major consideration in art purchase is durability and limited maintenance cost over time. Artist(s) considering materials to be used should acknowledge the exposure of outdoor art to weather conditions that may exist in Western Missouri. Artworks that are offensive or politically motivated or those which do not meet community standards of decency will not be approved.
Submissions will be juried by a Selection Panel comprised of Park Board members, artists, and a member of the Tourism Commission with City staff liaisons. Artist(s) selected for video conference or in‐person interviews will be asked to prepare additional details and illustrations of the proposed artwork(s). Final recommendations of the Selection Panel are subject to approval by the Riverside Board of Aldermen.
DATES
November 19, 2021 Applications due by 5:00PM CDT
December 2, 2021 Selection Panel selects artist(s) for video conference or in‐person interview
December 9‐10, 2021 Selected artist(s) interviews
December 21, 2021 Artist(s) selection finalized by Board of Aldermen
December 28, 2021 Contracts signed by artist(s) and returned to City
June 10, 2022 Delivery deadline for art
June 13‐17, 2022 Install artwork
June 17, 2022 Dedication Event (date TBD)
**Dates are subject to change for the needs of Riverside. When applying, please consider this schedule and ensure that the deadlines can be met.
Questions
Contact Noel Bennion, Capital Projects & Parks Manager at nbennion@riversidemo.gov or 816‐372‐9028.
City of Riverside Park Board
2950 NW Vivion Rd
Riverside, MO 64150
Apply for this Opportunity