This opportunity listing has expired and may no longer be relevant!
Compete

Quilt National '23: The Best of Contemporary Quilts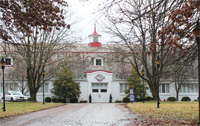 Opportunity Description
International Deadline: September 5, 2022 – The Dairy Barn Arts Center announces the call for entry for Quilt National '23: The Best of Contemporary Quilts.
Quilt National is the twenty-third in the series of international juried exhibitions dedicated to promoting the contemporary quilt by serving as a showcase for NEW artwork (completed after September 8, 2020) that provides the viewer with an appreciation of the variety of techniques and innovative trends in the medium of layered and stitched fabric. The jurors will select artworks that represent unique approaches to the medium and demonstrate the breadth and variation of contemporary expressions.
Selected artworks from Quilt National '23 will be available to circulate to host venues from September 2023 through December 2025. Approximately 85 quilts will be juried into the exhibition.
ELIGIBILITY
Any eligible quilt:
Has not and will not appear prior to May 27, 2023 in any local, regional, national or international exhibition including but not limited to group, solo, curated, invitational, and juried exhibitions.
Has not and will not appear prior to May 27, 2023 in a print publication that has national or international distribution, this restriction includes SAQA publications.
Has no vertical or the horizontal dimension of any single piece or group of pieces exceeding 100 inches (254 centimeters).
Was completed after September 8, 2020.
Has never been submitted to a previous Quilt National.
Meets the structural requirements of a quilt as stated in the prospectus.
Was not created in an instructional setting.
Is not a copy or variation of another artist's artwork.
Is created by independent effort, unless collaborator(s) is listed.
Is completed, and not a work in progress.
JUDGING CRITERIA
Artwork will be judged on originality, design, technique, and craftsmanship. Jurors will select no more than one artwork by an artist. Preliminary acceptance will be granted on the basis of the digital image submission. Final acceptance will be granted after a jurors' representative has examined the artwork itself, following the arrival of the artwork to The Dairy Barn Arts Center.
Approximately 85 artworks will be selected for display at The Dairy Barn Arts Center from May 27, 2023—September 4, 2023. The judging will be done by a "blind jury" process, meaning the jury members will be given no identifying information as to the artist's name, location, or any other personal identifying information.
JURORS
These talented individuals possess a wealth of knowledge about contemporary textiles and fine art with decades of collective experience in the artistic, technical, and academic aspects of this exciting art form.
Jury:
Dr. Carolyn Mazloomi
Irene Roderick
Chiaki Dosho
AWARDS
Approximately 85 quilts will be juried into the exhibition and the following awards will be given:
Purchase Awards
With the support of the Robert and Ardis James Foundation, four artworks will win purchase awards and their quilts will be placed into the International Quilt Museum in Lincoln, Nebraska.
Best of Show: $7,500 sponsored by MODA for the most outstanding artwork of the exhibition.
Most Innovative Use of Material: $5,000 sponsored by the Robert & Ardis James Foundation for the most innovative artwork.
Award of Excellence: $5,000 sponsored by Aurifil for outstanding artistry.
Emerging Artist: $2,500 sponsored by Mountain Mist to the most outstanding first-time exhibitor.
The purchase awards will be given opening weekend and the quilts will tour for two years and then placed in the International Quilt Museum's Quilt National Collection for exhibition, study and research. In the entry process, each artist will be asked if they want their quilts to be considered for the purchase awards.
Cash/Travel Awards
These awards will be awarded to Quilt National '23 participating artists. During the Submission process, artists will be asked to answer questions about their eligibility for these prizes. As we are securing sponsors for these awards, the awards are subject to change.
ENTRY FEE
A non-refundable entry fee of $45.00 (forty-five US dollars) will accompany the entry submission.
APPLY ONLINE
Visit us for complete details and to Apply. Artists granted preliminary, conditional acceptance will be notified within two weeks following the jury process.
SALES
Artists whose artwork is not for sale (NFS) must write NFS and must list a valid insurance value in US dollars. Artwork identified on this form as FOR SALE (e.g. with an established retail price in US dollars) must maintain that status for as long as it is part of the active Quilt National '23 collection.
In the event of a sale, the artist will be paid 65% of the retail price listed on this form. The Dairy Barn Arts Center will retain a 35% commission on artwork sold during the exhibition at The Dairy Barn Arts Center , while on tour or on any sale that results from mediation by DBAC staff.
---
About:
The Dairy Barn Arts Center's mission is to offer exhibitions, events, and educational programs that nurture and promote area artists and artisans, develop art appreciation among all ages, provide the community access to fine arts and crafts from outside the region and draw attention and visitors to Southeast Ohio.
The Dairy Barn Arts Center has also developed an international reputation for excellence with Quilt National, a biennial exhibition that has attracted more than 100,000 visitors to Athens from around the world since its premiere in 1979.
The Dairy Barn Arts Center
8000 Dairy Ln
Athens, OH 45701
Apply for this Opportunity