Compete

Diversia – UN Calendar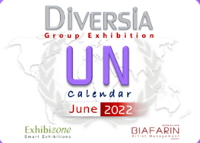 Opportunity Description
International Deadline: May 26, 2022 – Exhibizone proudly presents the 24nd artist call from its well-known international smart online exhibition series, Diversia.
Exhibit your art aligned with UN calendar and Win Cash Prizes in June 2022.
Following UN calendar, Diversia encourages artists to share their art in relation to international events and critical situation recognized by United Nations.
This month's exhibition focuses on the following items as expressed in UN calendar:
June 01 Parents: Global Day of Parents
June 03 Bicycle: World Bicycle Day
June 4 & 12 Children: International Day of Innocent Children Victims of Aggression & World Day Against Child Labour
June 05, 08 & 17 Environmental Issues: World Environment Day & World Ocean Day & World Day to Combat Desertification and Drought
June 07 Food: World Food Safety Day
June 14 Blood: World Blood Donor Day
June 16 & 20 Refugees and Immigrants: International Day of Family Remittances & World Refugee
June 21 Yoga: International Day of Yoga
Solstice: International Day of the Celebration of the Solstice
ELIGIBILITY
The submission is open to all visual artists creating original artworks in 2 and 3-dimensional media. This includes painting, drawing, illustration, printmaking, photography, digital art, fiber art, sculpture and mixed media. Artworks must be entirely the work of the artist, executed without the supervision of an instructor.
All styles are accepted. Any abstract or representational interpretations of the subject are welcome.
AWARDS
International Group Exhibition, Cash Prizes, Catalogue, Digital Certificate, Promotion and Online Sales Promotion, Visitors Ratings and Comments, Reports and Insights… see more
ENTRY FEE
Submitting to this artist call is free of charge, and a small selection fee applies to selected artists only. Artists can submit up to 5 pieces of original artworks in relation to the subject.
APPLY ONLINE
Visit us online for more details and easy online Application.
---
About Diversia
Diversia presents a series of monthly art exhibitions, encouraging art diversity to promote awareness on important international events and critical subjects via art.
Diversia exhibition series is organized by Exhibizone, powered by Biafarin platform.
About Exhibizone
As an art exhibition house, Exhibizone has become an international destination zone for visual artists to exhibit their art efficiently via one-of-a-kind smart online shows. Each exhibition targets specific segments of visitors and provides online sales features, news circulation, social media badges, catalogues, and exhibition posters to maximize the art exposure for participant artists.
About Biafarin
Biafarin is a Canadian registered artist management company, supporting artists from 100+ countries to promote and sell their art effectively. Exhibizone uses Biafarin technology platform to deliver the smart online group exhibitions to visual artists worldwide.
Biafarin is the sponsor of Public Choice cash prizes to winners and guarantees the delivery of service by Exhibizone.
Apply for this Opportunity