This opportunity listing has expired and may no longer be relevant!
Internet

Dream Foundry Art and Writing Contests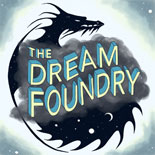 Opportunity Description
International Deadline: October 11, 2021 – The Dream Foundry contests for beginning professionals are back! The contests are for short speculative stories up to 10k words and speculative art portfolios of 3-5 works.
ELIGIBILITY
This contest is for artists who are relatively new to paid illustration work for speculative publications in English.
To be eligible for this contest, all the following rules must be true of you:
You have a maximum of one (1) commissioned/original artwork for the cover of a speculative publication.
You have only two (2) or less non-original artworks (reprint/licensed art) used for covers of speculative fiction magazines or publications.
You have never been nominated for any Hugo award for art, including fan categories.
You are not a previous winner of the Dream Foundry art contest
AWARDS
The contest coordinators will be responsible for selecting ten finalists from all valid submissions received during that time, and the judges will select winners for first, second, and third prize from the finalists. This year, the prizes for contestants will be:
1st: $1000
2nd: $500
3rd: $200
ENTRY FEE
There is no submission fee.
Finalists will be announced in mid-November. Winners will be announced in early December.
---
About:
The Dream Foundry is an incubator for something wonderful. Our mission is to bolster and sustain the nascent careers of professionals working in the field of speculative literature. To do this, we will launch a contest which will provide a venue to spotlight their work, and offer a prize consisting of a cash reward and a fully funded workshop designed to support mentorship, professional development, and career-oriented networking.
Apply for this Opportunity