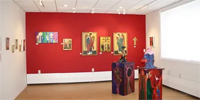 Opportunity Description
International Deadline:  January 1, 2023 – In this Nails in the Wall Gallery exhibit, we invite artists to explore any aspect of the concept of 'emerging.'  From personal life, to natural life, to the vastness of the universe, to the breadth of artistic imagination…all perspectives are welcomed and encouraged.
Emerging is
– starting to exist
– growing or developing
– newly formed, or becoming newly apparent or prominent
– coming to one's attention, especially gradually or unexpectedly
– arising, materializing, springing up, or surfacing
Download Prospectus – No Fee
---
About:
This permanent gallery space – a ministry of St. Luke's Episcopal Church – continues a long tradition of providing a home for the arts.  The gallery represents two years of preliminary work by the community of St. Luke's to prepare a direction and mission, ready a gallery ministry committee, determine the optimum location, and attend to the many details inherent in  creating a permanent showcase for the visual arts.
St. Luke's Nails in the Wall Gallery
St Luke's Episcopal Church
17 Oak Ave
Metuchen, NJ 08840
Apply for this Opportunity