This opportunity listing has expired and may no longer be relevant!
Compete

Emptiness 2022: Call for Artists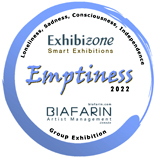 Opportunity Description
International Deadline: September 26, 2022 – Now in its second year, Emptiness encourages artists working in any medium to share their artistic interpretation of "Emptiness" and join us in yet another top-rated show by Exhibizone that so far has attracted 3,800,000+ visitors globally. Visualize emptiness in an exhibition and win cash prizes.
THEME
Emptiness has been a word with many meanings, aspects and feelings from different viewpoints, in various cultures.
Cambridge vocabulary uses "not sincere", "sad feeling", and "a state with no emotion or purpose" for emptiness, while in Buddhism it is called "the true nature of things and events."
Lao Tzu in Tao Te Ching artistically quotes: "We mold clay into a pot, but it is the emptiness inside that makes the vessel useful."
While a western view of emptiness often seems to be negative, in some eastern philosophies, it represents a state of stillness and placidity to see through the illusion, which represents the "mirror of the universe" and the "pure mind".
The COVID-19 virus spread forced us to isolation, and we all faced some sort of emptiness, either due to losing a loved one or feeling lonely during the long-lasting lockdowns, or even through finding ourselves, appreciating our own company and observing a state of stillness.
Does the word "Emptiness", and the feelings attached to it, brings you a valuable serenely and tranquil quiet or it is equal to nothingness, depression, loneliness, and despair?
On display October 10 to November 10, 2022.
ELIGIBILITY
Open to visual artists worldwide, working in any medium including Painting, drawing, illustration, printmaking, photography, digital arts, sculpture, crafts, fiber art, textile arts, visual art, book art, land art, metalsmithing, installation, and mixed media are accepted. All styles are welcome. There is no limit for artwork creation year.
Artworks must be entirely the work of the artist, executed without the supervision of an instructor.
Artist should own all the rights for promoting, publishing and selling the artworks locally and internationally.
Entries must not be copies or derivatives based, in any way, on other copyrighted or published paintings, photographs, sculptures, or other artistic works.
Artists can submit artworks that are not for sales.
AWARDS
■ Group Exhibition
Selected artworks will be showcased in an online smart group exhibition globally from October 10 to November 10, 2022.
■ Artwork Sales
Selected artworks will be promoted to sell via the online exhibition link.
■ Public Choice Cash Prizes
3 Artists with the highest rating in the whole duration of the exhibition will win US$ 300 cash prize (USD 100 each). The prize will be transferred to artist via Paypal.
■ Exhibition Catalogue
All selected artworks and artists will be published in a stylish colorful exhibition catalogue available in both online and print versions. Artists can order for the print catalogue via print-on-demand service from one of the partner platforms. The catalogue will be promoted and circulated internationally, becoming available to thousands of viewers including art experts, galleries, curators, businesses and enthusiasts, via popular publication gateways.
■ Exhibition Poster
A link to the digital version of the exhibition poster will be sent to each artist via email.
■ Promotional Badges
A link to the digital promotional badge for each artwork will be sent to each artist to share in the social media.
■ Artwork Reviews
All exhibition visitors can submit their reviews and ratings of the exhibition and each artwork online.
Visitors' comments gives a valuable insight about their feelings and understandings about the artworks. Artists will be notified about comments on their artworks by email.
■ Exhibition Promotion
A promotion program will be executed to boost the selected artists' exposure and increase the artwork sales during the exhibition period.
The program includes exhibition press release sent-out, catalogue circulation, social media presentation, etc.
■ Reports, Analytics and Insights
An insightful report containing the number of visits, reviews, artworks popularity, and engagement rate of the exhibition viewers, along with the sales statistics will be sent to each artist regularly during the exhibition.
■ Publication
Some of the selected artworks might be published in various magazines and books in Biafarin art network for promotion purposes.
■ Artist Profile Page
Each artist receives a free online profile page in Biafarin platform.
■ Certificate
A digital certificate will be issued for all participants and selected artists.
Each artist can print the digital certificate from Biafarin platform, after the submission is complete.
■ Biafarin Free Shipment
Selected Biafarin members with Gold and Platinum membership are eligible to use a free shipment for their artwork(s) in case of sales.
■ see more
ENTRY FEE
Submitting to this artist call is free of charge, and a small selection fee applies to selected artists only. Artists can submit up to 5 artworks. Maximum 2 artworks will be selected from each artist.
APPLY ONLINE
Visit us online for more details and easy online Application.
---
About Exhibizone
As an art exhibition house, Exhibizone has become an international destination zone for visual artists to exhibit their art efficiently via one-of-a-kind smart online shows. Each exhibition targets specific segments of visitors and provides online sales features, news circulation, social media badges, catalogues, and exhibition posters to maximize the art exposure for participant artists.
About Biafarin
Biafarin is a Canadian registered artist management company, supporting artists from 100+ countries to promote and sell their art effectively. Exhibizone uses Biafarin technology platform to deliver the smart online group exhibitions to visual artists worldwide.
Biafarin is the sponsor of Public Choice cash prizes to winners and guarantees the delivery of service by Exhibizone.
Apply for this Opportunity