This opportunity listing has expired and may no longer be relevant!
Art Calls

2023 Call for Artists: Solo & Group Proposals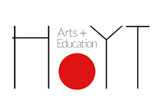 Opportunity Description
U.S. Multi-State Deadline: May 1, 2023 – Arts & Education at the Hoyt is currently seeking proposals to fill open slots in its 2023-24 and 2024-25 exhibition schedules.
ELIGIBILITY
Individuals, duos, collectives and curatorial proposals are welcome. Artists living in the Mid Atlantic region of the US (PA, OH, NY, NJ, MD, VA, WV, DE, DC) are preferred.
Museum may help differ shipping expenses if selected.
APPLICATION
Please include a description of the proposed exhibition, 10-20 jpeg images, and image list (titles, media, dimensions), resume and a $25 review fee.
E-mail to: exhibits@hoytartcenter.org, noting "Call for Artists" in subject line. Or mail to:
Arts & Education at the Hoyt
Patricia McLatchy, Exhibition Manager
124 E. Leasure Avenue
New Castle, PA 16101
---
About:
Our mission is "to expand and enrich the life of the community through participation in the arts. Arts & Education at the Hoyt receives state arts funding support through a grant from the Pennsylvania Council on the Arts, a state agency funded by the Commonwealth of Pennsylvania.
Apply for this Opportunity