This opportunity listing has expired and may no longer be relevant!
Compete

The Fierce Urgency of Now: Socially Engaged Printmaking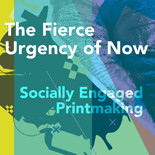 Opportunity Description
International Deadline: November 8, 2021 – In a 1967 speech in New York City Martin Luther King Jr. urged that "We are now faced with the fact that tomorrow is today. We are confronted with the fierce urgency of now. In this unfolding conundrum of life and history, there is such a thing as being too late. This is no time for apathy or complacency. This is a time for vigorous and positive action." The last three years have powerfully revealed that "tomorrow is today" with no time for "apathy or complacency." Printmakers have responded to the urgency of this moment – producing work and creating space to not only spark vital conversation but also produce social change. The Turner seeks prints produced in the last three years that reflect on issues of social, cultural and/ or political significance.
On display February 14 – April 9, 2022.
ELIGIBILITY
Prints produced within the last three years and not previously shown at the Turner Print Museum. Soley photographic or digital prints not acceptable. Artist may reside outside US; work must be shipped within US.
JUROR
Aaron Coleman is an Associate Professor of Art at the University of Arizona. He received his MFA from Northern Illinois University in 2013 and BFA from Herron School of Art and Design in 2009.
Aaron has exhibited internationally and received numerous awards, scholarships, and fellowships for his work in lithography and mezzotint. His work can be found in the collections of The Janet Turner Print Museum, The University of Colorado, Wichita State University, the Ino-cho Paper Museum in Kochi, Japan, The Yekaterinburg Museum of Art in Yekaterinburg, Russia, the University of Tennessee Knoxville's Ewing Gallery Collection, and The Artist Printmaker and Photographer Research Archive among many other public and private collections… see more
AWARDS
Turner Friends Prize: Two-three artists will be selected to participate in an exhibition at the Turner Print Museum in 2023.
Selected artwork will be highlighted both in-person and archived on our website in an on-line exhibition.
Each accepted artist receives an exhibition catalog
Exhibition programming and promotion will boost the selected artists' exposure and increase the artwork sales during the exhibition period. (including exhibition press release, catalog circulation, social media presentation, etc.)
APPLY ONLINE – No Fee
Accepted artists notified by December 1, 2021.
---
About:
The Janet Turner Print Museum at California State University, Chico advances the art of printmaking by making its international collection accessible to the people of Northern California and beyond. We engage a diverse public through stimulating exhibitions, programming, and study to inspire reflection, collaboration, and action.
The Janet Turner Print Museum
400 W. First St.
Chico, CA 95929–0820
Apply for this Opportunity