This opportunity listing has expired and may no longer be relevant!
Compete

2021 Magic Wand Pleasure as Art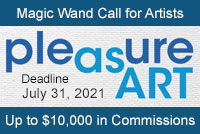 Opportunity Description
U.S. National Deadline: July 31, 2021 – The Magic Wand Pleasure as Art Competition is an open invitation to artists nationwide to design a one-of-a-kind art piece using 100 inactive Magic Wands. The winning artist's creation will be put on tour and proudly displayed at prominent locations across the country.
Our goal is to create meaningful, pleasure-positive art that celebrates the joy Magic Wand has brought to millions of people. We want to show the world that Magic Wand's power can inspire smiles without even vibrating!
ELIGIBILITY
This competition is open to all professional artists and/or artist-led teams residing in the 48 contiguous United States. Artist and/or constituent team members must certify that they are 18 years old or older at the time of entry submission. Applicants will be considered regardless of race, gender, gender variance, sexual orientation, national origin, religion, marital status, political opinion or affiliation, or mental or physical ability. To be considered, artists must have demonstrated experience accomplishing work of similar scope and scale.
GOALS & PAREMETERS
The finished art piece is intended to inspire observers to think about the celebration of pleasure and the joy the Magic Wand has brought to millions of people over the last fifty years. Physically, the art piece may be a sculpture, flat arrangement of the required products, or any combination of the two. Mixed media and additional elements are acceptable so long as the following parameters are met:
The finished piece must be freestanding and secured to base that provides support without the need for additional structural elements such as cables, braces, or permanent fasteners. It should be stable enough to withstand minor accidental contact without tipping.
The finished piece may be static or animated so long as the design remains self-supporting and does not require unusual technical intervention by display venue staff.
Powered elements for motion, illumination, audio, and etc… should use common connections and be designed following any and all recommended safety requirements associated with the elements being used. Artist should assume no special electrical or mechanical support will be provided by the display venues.
The finished piece may incorporate elements designed for physical observer interaction so long as the design remains stable when manipulated as intended.
Magic Wand will provide 100 non-working, fully sanitized wands. Product dimensions are as shown in the image.
artist's design must incorporate at least 50 wands which may be used complete or disassembled.
Display locations will vary, but artist should assume the piece may be viewable from any vantage point, and therefore should avoid having an unfinished section they do not want visible.
Final size is left to the artist's creative judgement, but venue constraints will limit overall assembled dimensions* to 6'-0" wide x 6'-0" deep x 6'-0" tall. The piece will need to be shipped in crate(s) that will fit through a 3'-0" wide door. *Final dimensions subject to change prior to entry submission period, but will not change once entries are accepted.
The finished piece must be designed to withstand repeated shipping from location to location.
All parameters are subject to change prior to entry submission period. Final parameters will be included or linked on the entry form.
DELIVERY
Artist will NOT be responsible for crating or shipping but WILL be responsible for making provisions for secure packing to avoid damage in transit. Anchor points, bracing, or other elements may either be integral to the structure of the piece or easily installed using Artist's instructions. Intended design of these elements may be requested by the selection committee and may be considered as part of the judging criteria.
Artist shall be responsible for providing specific instructions for any required disassembly prior to shipping and reassembly upon arrival. Intended details of these instructions may be requested by the selection committee and may be considered as part of the judging criteria.
PROJECT BUDGET & ARTIST COMMISSION
The winning artist or team (Artist) will be contracted by Magic Wand/Vibratex to provide a "work for hire" art piece (The Piece). Commission for this work will be up to $10,000 USD. Upon contract execution, Artist may request up to $2,500 USD for supplies and fabrication expenses. Balance of the total commission will be paid upon approved completion of the art piece.
SELECTION
The initial selection committee will be made up of Vibratex/Magic Wand personnel as well as individuals with expertise in either sexual wellness, retail, or design.
ENTRY FEE
There is no application fee or purchase required.
ENTRY [Online Entry Form live beginning May 10, 2021]
Visit us online for complete Prospectus and application instructions. Artists may apply individually or as a team.
Any and all questions should be directed to media@magicwandoriginal.com.
Apply for this Opportunity