Compete

National Watercolor Exhibition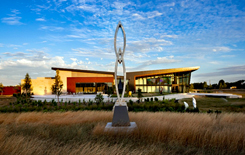 Opportunity Description
U.S. National Deadline: September 2, 2022 – Artists are invited to submit works for Mark Arts' 2022 National Watercolor Exhibition. The deadline to be considered for this popular exhibition is September 2.
On display October 7 – December 10, 2022, at the Gladys and Karl T. Wiedemann Gallery at Mark Arts.
ELIGIBILITY
The exhibition is open to all artists living and working in the United States, both amateur and professional. Only original paintings in water media on paper are acceptable.
Work must be ready to exhibit, created in the past three years, and not previously exhibited in a Mark Arts exhibition. Each entry must be wholly designed and executed by the artist.
All work should be framed and matted and glazed, preferably with Plexiglas, for all entries. Each artist may enter up to four pieces. All artwork must be for sale.
Prints, copies, photolithographic or computer-generated artwork are not eligible. Collage elements must be less than 10% and comprised of water media on paper. Minimum image size is 8 x 10 inches.
JUROR
Dean Mitchell, well-known for his figurative works, landscapes, and still-life works, will serve as juror. see more…
AWARDS
We anticipate many patron purchase awards, and $3,000 in cash awards will be offered. Only original paintings in water media on paper are acceptable.
CATALOG
Mark Arts publishes an illustrated catalog with all accepted entries. A complimentary copy will be mailed to each entrant.
ENTRY FEE
Each artist may enter up to two (2) artworks for the basic fee of $30, and any additional image is $5 (4 max). The entry fee is nonrefundable.
APPLY ONLINE
Visit us online for complete details and easy online application.
SALES
All artworks must be available for sale. A 40% commission is charged on all sales and patron purchase awards from this exhibition.  All work may also be for sale online at Mark Arts Online Sales Gallery.
CALENDAR
September 2 Online registration closes and postmark for paper entries at 11:59 pm. CST
September 14 Result Notification emails
September 24 Deadline for receipt of shipped artwork
October 7 Opening Reception from 5:30-7:30 p.m. with remarks
December 10 Exhibition closes
December 13-17 Hand-delivered artwork picked up
December 20 Shipped artwork returned
---
About:
The mission of Mark Arts is to be a vibrant arts hub in Wichita and the region by providing opportunities to create and appreciate art in an atmosphere of lifelong learning.
Mark Arts
1307 N. Rock Road
Wichita, KS 67206
(316) 634-2787
Apply for this Opportunity