Internet

6th Annual Light and Shadow 2023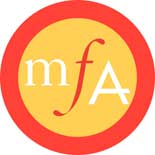 Opportunity Description
International Deadline: October 11, 2023 –Where there's light, there must be shadow. Whether an artist knows it or not, light and shadow are essential to all forms of art, either as the subject of the piece, or the material being used to create it. From the dramatic chiaroscuros of the European Renaissance to the interactive and immersive experiences of Mary Corse and Yayoi Kusama, light and shadow continuously fascinate artists. Pieces that play with this dynamic are eligible for Maryland Federation of Art's 6th annual Light and Shadow exhibition.
Works selected by the juror will be on display in MFA's online gallery, Curve Gallery, from December 15, 2023 – January 31, 2024. Exhibition Chairs: Richard Niewerth and Wil Scott.
ELIGIBILITY
Entry is open to all artists residing internationally. All original 2D or 3D artwork in any media is eligible for this online show.
AWARDS
Cash awards total $500.
ENTRY FEE
1 or 2 entries $35 (MFA Members $20). Additional 4 entries $5 each. Entry fees are non-refundable.
APPLY ONLINE
Visit us online for complete details.
SALES
Work must be for sale. MFA's Online Sales Gallery is provided to North American artists to sell their work. Only artists in the 48 contiguous United States may set a price. MFA will reimburse up to $35 in shipping costs to those artists for online sales shipments if a receipt is provided. All other artists must enter Price on Request (POR) and purchase inquiries will be referred by MFA to the artist.
Artists will retain 80% from sales (85% for MFA Members). MFA will retain 20% commission (15% for MFA Members) on any work sold through MFA. Artists will be responsible for fulfillment of sales.
DATES
Oct 11 Entry Deadline
Nov 7 Notification @ 5 PM
Dec 15 Exhibition Opens Online
Jan 8 Awards Announced @ 5 PM
Jan 31 Last Day of Online Exhibition
---
About:
The MFA incorporated as a 501(c)3 nonprofit organization in 1968 and, through the hard work of a growing and enthusiastic membership, opened the Circle Gallery located at 18 State Circle, just steps away from the State House in Annapolis. The gallery is located in a restored loft space in the heart of the Annapolis Historic District and has been operating continuously since opening its doors. The MFA has also reached out beyond its doors through its Alternate Space efforts, often bringing art to unexpected places.
Maryland Federation of Art
18 State Circle
Annapolis, MD 21401
t: 410 268 4566
Apply for this Opportunity