Art Calls

MSI Series of Outdoor Sculpture Exhibits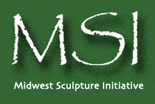 Opportunity Description
International Deadline: August 31, 2022 – The Midwest Sculpture Initiative is proud to be organizing six outdoor sculpture exhibits for the 2022-23 Fall Series.
All exhibits feature the following benefits to the exhibiting sculptor:
stipends of $900. (paid to sculptor at time of installation);
high visibility sites;
year-long coordinated media promotions;
most venues offer guided tours and brochures;
exhibits posted on the MSI website (www.msisculpture.com) with links to and from the host websites;
concrete pads and installation services;
and MSI, with the 'host', will provide liability insurance (sculptor supplies damage and loss insurance).
All exhibits begin approximately September 30th, 2022, and conclude September 15th, 2023;
strongly encouraged sales (MSI has proven year after year that it can sell sculpture, ask the many happy sculptors)
THE EXHIBITS
10th Annual Kochville Township Outdoor Sculpture Exhibition Kochville Township (Michigan)
8th Annual Vandalia Art Parked Sculpture Exhibition Vandalia (Ohio)
5th Annual City of Mount Clemens Outdoor Sculpture Exhibition The City of Mount Clemens Michigan
5th Annual Sandusky Outdoor Sculpture Exhibition in Sandusky Ohio
5th Annual Moross Greenway Outdoor Sculpture Exhibition The Moross Greenway Project is in the Detroit-Grosse Pointe, MI
2nd Annual Falling Waters Sculpture Trail Exhibition The Falling Waters Trail joins the Village of Concord with the City of Jackson, Michigan
DOWNLOAD APPLICATION – No Application Fee
---
About:
Founded in 2003, MSI's mission is to provide outdoor sculpture exhibitions throughout the Midwest, promote cooperation among art and civic organizations, advance the role that the visual arts play in the quality of life and increase economic development.
Midwest Sculpture Initiative
11993 East U.S. 223
Blissfield, MI 49228
Questions: 517-486-4591 or msisculpture@netzero.net
Apply for this Opportunity