Ezine/Print

The Mobile Library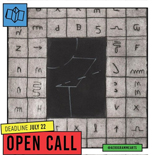 Opportunity Description
International Deadline: July 22, 2022 – The Mobile Library provides a multi-digital exhibiting experience for artists and writers to showcase their work during the pandemic closures. Each publication is unique, pairing 6 artists and 6 writers together at different stages in their career to build a collaborative experience.
We are excited to announce Volume 2 will take on themes of the supernatural, spiritual, and mythological with Issue 4 seeking 6 artists and 6 writers that explore our theme of 'Sci-fi'. Themes include – but are not limited to – technology, dystopia, extraterrestrial or alien, robots, steampunk, cyberpunk, futurism, virtual reality, inventive languages, space exploration, time travel, super heroes, and parallel universes!
ELIGIBILITY
Artists and writers 18 years and older are eligible to apply. National and international artists are eligible to apply
APPLY ONLINE – Free to apply
Inquires, email info@aerogramme.org
---
About:
The Aerogramme Center for Arts and Culture is an online exhibition platform, digital fine art and literary magazine, and podcast founded in March 2020. Launching at the beginning of the Covid-19 pandemic, we are committed to providing multi-digital opportunities during the pandemic closures and furthering artistic creativity among emerging and mid-career artists and writers around the world.
Apply for this Opportunity