Portfolio

Morris and Helen Belkin Art Gallery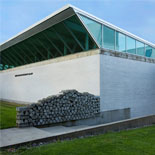 Opportunity Description
International Deadline: Ongoing – Founded as the UBC Fine Arts Gallery in 1948, the Belkin Gallery has an international reputation for its innovative work in the field of contemporary art and houses one of the largest public collections of art in British Columbia and a substantial archive.
SUBMISSIONS
The curatorial direction of the Belkin's exhibition program is devoted to the artistic work and ideas of our time with a strong consideration for the local context. The Belkin is a research-based institution and does not program exhibitions through unsolicited submissions. You are welcome to send an artist's CV and package (CD/DVD/website) introducing or updating us on your work that will be reviewed on an annual basis. Packages will not be returned.
Morris and Helen Belkin Art Gallery
1825 Main Mall
University of British Columbia
Vancouver BC V6T 1Z2
Canada
Telephone: +1 (604) 822-2759
---
About:
The Morris and Helen Belkin Art Gallery is mandated to promote understanding and discussion of contemporary art and contemporary issues in art history, criticism and curating. Our mandate is realized through research, exhibitions, acquisitions, publishing, education and public and academic programs in the field of contemporary art with a focus on our region within a national and international context.
As a university art gallery, the Belkin is committed to a research mandate, an international perspective and to the goal of fostering a civil society.
The Belkin seeks to explore the ways in which the practice of contemporary art is in itself a form of research that produces knowledge. Through our exhibitions, publications, events and programs, we raise awareness and encourage debate in the field of contemporary art. Through our collections, the Belkin contributes to an understanding of the Canadian avant-garde of the 1960s and 1970s, the international network developed at that time and its role in the art of today. Across all media and disciplines we emphasize practices and projects that challenge the status quo, support emerging artists and practices and present artist-initiated projects.
The Belkin's collection contains more than 5,000 artworks, making it one of the largest public art collections in the province.
Apply for this Opportunity