Compete

2022 Open Call for Artist Banners at The Noguchi Museum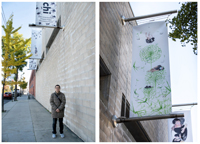 Opportunity Description
U.S. Regional Deadline: August 22, 2022 – The 2022 Open Call for Artist Banners is now open to artists ages 18 and older who self-identify as AAPI and reside in New York City's five boroughs. To apply, artists must submit a digital file of their five designs for the three banners (each banner is double-sided, with one side devoted to the "noguchi" logo). Enclose a CV and a one-paragraph artist statement that describes how the design addresses the theme of peace. Designs that are created specifically for this proposal will be prioritized above designs that are appropriated from artists' previous artwork. Designs should be completed and ready for printing.
Download Banner Design Specs (.pdf)
JURORS
Noguchi Museum Organizing Committee:
Justin Baez, Media Coordinator
Lindy Chiu, Benefits & Accounts Payable Coordinator
Carmine Indelicato, Assistant Manager of Visitor Services
Melissa Gatz, Director of Individual Giving and Events
Matt Kirsch, Curator of Research and Digital Content
Katie Korns, Administrative Associate
Danielle McCloskey, Shipping Assistant, Akari and Design
Guest Judges:
Asian American Arts Alliance (A4)
Toshiko Mori
Christine Park
AWARDS
The winning banner designs will be revealed on the 118th anniversary of Isamu Noguchi's birth: Thursday, November 17, 2022. The winning artist will have their designs installed on the Museum's outdoor banners for one year, from November 2022 through November 2023, and will receive an honorarium of $3,500. The two runners-up will each receive an honorarium of $2,500. All three artists will lead a public program in the spring of 2023, along with an artist talk to highlight their project and celebrate the AAPI community during a free admission day.
SUBMISSION – No Fee
Please send all application materials as one PDF to banners@noguchi.org with the subject line 'Artist Banners at The Noguchi Museum.' Also, please let us know that you saw this announcement on 'ArtDeadline.Com".
The 2022 Artist Banners project is supported by the donors to Noguchi at Night.
---
About:
The Noguchi Museum—chartered as Isamu Noguchi Foundation and Garden Museum—was founded and designed by acclaimed artist Isamu Noguchi (1904–1988) for the display of his life's work. Opened in 1985 and located in Long Island City, Queens, in a converted industrial building with a serene outdoor sculpture garden, the Museum is considered to be one of Noguchi's greatest achievements. Today, the mission of the Museum is to advance the understanding and appreciation of Noguchi's art and legacy. It manages the world's most extensive collection of Noguchi's artworks in addition to his complete archives and Catalogue Raisonné. Through its rich collection, exhibitions, and programming, the Museum facilitates scholarship and learning for audiences of all ages and backgrounds.
The Isamu Noguchi Foundation and Garden Museum
9-01 33rd Road
Long Island City, New York 11106
718.204.7088
Apply for this Opportunity