Internet

NYC4PA Call for Entry: Let's Play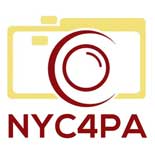 Opportunity Description
International Deadline: August 15, 2021 – The New York Center for Photographic Arts (NYC4PA) invites photographers world-wide to submit images using any photographic process (print, image transfer, emulsion transfer, encaustic, black and white, etc.).
THEME
In the northern Hemisphere summer Is here, the weather is warm, and we have the great outdoors to play in. The truth, however, is we can play indoors and outdoors all year long no matter what the weather. "Play Ball" brings to mind baseball, but sports, including things like polo and volleyball, are only part of how we play. Don't forget the myriad of other outdoor and indoor games. Consider childhood activities like hit the penny and hopscotch, running bases, playground swings, seesaws and merry go rounds. Indoors adds so much more with all the wonderful games like chess, mah jongg, bridge and Monopoly.
Shots that focus on the game, the equipment, or the players are all part of the theme. Send in your interpretation of this broad and varied theme.
ELIGIBILITY
This Call for Entries is open worldwide to both amateur and professional photographers. NYC4PA invites photographers working in all mediums, styles and schools of thought to participate. Experimental and mixed techniques are welcome. Only 2-D work is eligible.
JUROR
Crista Dix is the Associate Director of the Griffin Museum of Photography in Winchester, Massachusetts. The Griffin Museum of Photography is a nonprofit organization dedicated solely to the art of photography. Through our many exhibitions, programs and lectures, we strive to encourage a broader understanding and appreciation of the visual, emotional and social impact of photographic art. The Griffin hosts over 40 exhibitions annually, between the Museum in Winchester and our two satellite spaces in the Greater Boston area… see more
EXHIBITION AND AWARDS
There will be 10 cash prizewinners, 20 Juror Selections and 20 Honorable Mentions.
Grand Prize: One photographer will receive $1,100. The image will be featured on the home page NYC4PA.COM.
First Prize:3 photographers will each receive $400.
Second Prize:3 photographers will each receive $325.
Third Prize:3 photographers will each receive $250.
ONLINE GALLERY, CATALOG and AWARD CERTIFICATE
All prizewinners will be included in both the online gallery and catalog and be presented with a certificate.
ENTRY FEE
The entry fee is $35 for the first three images. Additional images may be submitted for $10 each. There is no limit to the number of images submitted.
APPLY ONLINE
Visit us online for further details and to apply.
---
About:
The mission of the New York Center for Photographic Art is to provide exhibition opportunities in the vibrant New York City gallery world to photographers around the globe, and to take photographers around the globe for exciting photo opportunities.
NYC4PA offers international, themed, open call competitions juried by recognized experts in the field of photography. Prizes include cash awards, online gallery, catalog and New York City gallery exhibit.
Apply for this Opportunity