Competitions

26th Annual SouthWorks National Juried Art Exhibition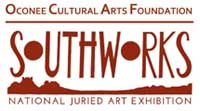 Opportunity Description
U.S. National Deadline: March 12, 2021 – The Oconee Cultural Arts Foundation (OCAF) is now accepting submissions for the 26th Annual SouthWorks National Juried Art Exhibition! This year's exhibit will be juried by Jennifer A. Smith, Gallery & Marketing Director at The Arts Center of Greenwood, SC.
On display April 16th – May 28, 2021.
ELIGIBILITY
Open to all United States residents ages 18 and older. All artwork must be original and created by the submitting artist. No prints of original artwork will be accepted. The OCAF Director reserves final discretion in whether or not a print qualifies as an original artwork. Work previously exhibited at SouthWorks or at any OCAF exhibition is not eligible.
JUROR
Jennifer A. Smith is the gallery director for The Arts Center of Greenwood, located in South Carolina . She earned her bachelor 's degree in Visual Arts from Lander University in 2010, including an academic minor in Art History. A native of Anderson, South Carolina, she has 11 years of curatorial experience including exhibition design, administration, creative consulting, and marketing with various non profit s and arts organizations throughout the south east She has also served as an in dependent juror for more than a dozen exhibitions. In her professional history with The Arts Center of Greenwood, she has organized over 140 exhibitions… see more
ENTRY FEE
A non-refundable jury fee of $30 for OCAF members and $40 for non-members is required. This fee allows artists to submit up to three pieces.
APPLY ONLINE
Visit us for complete details and easy online application. Each artist may submit up to 3 artworks for consideration.
SALES
OCAF strongly encourages artists to only submit artwork that is for sale. OCAF will only accept a total of 5-10 artworks (10%) that are not for sale into the final exhibition. OCAF charges a 35% commission on all sold artworks. Checks for sold artwork will be mailed 10 business days after the exhibition closes.
DATES
March 12: Submission deadline
March 25: Notifications emailed to artists
April 6: Deadline for receipt of work by 5pm
April 16: Opening reception (6-9pm)
May 30 – June 3: Return of Shipped work/Artwork pickup
---
About:
The Oconee Cultural Arts Foundation, Inc. promotes cultural arts and artists, and provides art education to the citizens of Oconee County and the northeast Georgia area.
OCAF was created to enrich lives and help build a vibrant community through the arts. OCAF maintains a vision to inspire creativity, learning, and personal growth through visual arts exhibitions, art education, cultural events, and community collaborations.
Oconee Cultural Arts Foundation
34 School St.
Watkinsville GA 30677
t: 706-769-4565
OCAF is a non-profit 501(c)(3) charity.
---
Apply for this Job