This opportunity listing has expired and may no longer be relevant!
Compete

PaperWest: 3rd National Works on Paper Juried Exhibition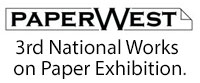 Opportunity Description
U.S. National Deadline: July 30, 2021 – Organized by the Department of Art and Art History at the University of Utah, this national competitive juried exhibition will showcase contemporary works on paper by artists throughout the USA.
The exhibition will take place in the Gittins Gallery, University of Utah, Salt Lake City, Utah, 18th October thru 12th November 2021.
ELIGIBILITY & MEDIA
All artists (18 years and older) residing in the USA are eligible to enter up to 3 original works that are either constructed from paper, or utilize a paper support. Works in Book Arts, Collage, Original Digital Prints, Drawing, Painting, Photography, Printmaking (including Monoprints) and 3D Paper Works are eligible. Works must have been completed in the last two years (Current students and employees of the University of Utah are ineligible to apply).
Max 2D paper size : 44 x 30 inches. Max framed size: 50 x 36 inches. Work must be framed. Paper works mounted on panels do not need to be framed but must be wired. Maximum 3D size: 24 x 24 x 24 inches
We will not consider offset reproductions, nor digital reproductions of artwork originally produced in another medium.
JUROR
Sam Vernon is a visual artist who earned her MFA in painting and printmaking from Yale University. Her installations combine Xeroxed drawings, photographs, paintings, and sculptural components in an exploration of personal narrative and identity. Recent solo exhibitions at venues include: San Francisco's Museum of the African Diaspora; UT Downtown Gallery, Knoxville, Tennessee; G44 Centre for Contemporary Photography, Toronto; and Seattle Art Museum, Olympic Sculpture Park.
Her work has been part of groups exhibitions at, among other institutions, California African American Museum; San Jose Institute of Contemporary Art, and the Barney Savage Gallery and The Cooper Union, New York.
Honors received include San Francisco Artadia Awards finalist; Sally and Don Lucas Artists Program (LAP) Visual Arts Fellowship; Artistes en Résidence, Clermont-Ferrand, France; Fountainhead Residency, Miami; Helen Watson Winternitz Award, Yale University; Emma Bee Bernstein Fellowship, A.I.R. Gallery, Brooklyn, and A.I.R. Gallery Emerging Arts Fellowship… see more
AWARDS
A number of awards will be given (Awards in 2019 were $4900.00).
ENTRY FEE
$20.00 Entry fee – The entry fee is used only for awards, juror costs, cost of website registration and marketing
APPLY ONLINE
Visit us online for complete details and easy online Application.
SALES & AWARDS
Sales will be encouraged and the organizers will put buyers in contact with artists. No commission will be collected on artwork sold through the exhibition
DATES
Submission deadline: Friday, 30th July 2021.
Notification emails: Friday, 27th August 2021.
Accepted works delivery deadline: Friday, 1st October 2021.
Exhibition: 18th October – 12th November 2021.
Reception: to be announced.
University of Utah
Art and Art History Department
375 South 1530 East, Room 161
Salt Lake City, Utah 84112-0380
Apply for this Opportunity