This opportunity listing has expired and may no longer be relevant!
Compete

PH21 CFE: Bodyscapes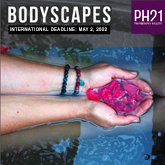 Opportunity Description
International Deadline: May 2, 2022 – PH21 Gallery invites photographers to submit their work for a group exhibition themed Bodyscapes. We are looking for submissions from all photographers who are interested in this subject, and who would like to share their work with a wider international audience through the exposure of PH21 Gallery. The theme is broadly construed without any photographic genre restrictions. Indeed, we are interested in all possible creative photographic interpretations of the theme.
The human body, in full or in part, is often in the focus of various photographic genres. From documentary, event and street photography to fashion photography and the nude, photographers have always found ways of constructing images in which the specific portrayal of the human body gains significance. This may be stemming from the rich layers of meanings determined and shaped by the specific socio-cultural context of the image, the visual interaction of the human body with the surrounding physical space, or the intriguing compositional possibilities offered by the body itself. When focussing on the body, some photographers explore movements, study expressive gestures and postures, or concentrate on the beauty and details of the human anatomy. Some narrate whole life stories through the depiction of the human body. Others may offer stern visual criticism of our normative conceptions of the human body and its mainstream representation in Western media.
A PH21 Gallery Exhibition June 30 – July 23, 2022.
ELIGIBILITY
All photographers 18 years or older worldwide may enter the competition by submitting their own, original work. PH21 Gallery welcomes submissions from, and exhibits work of emerging and established photographers as well.
CURATORS
Zsolt Bátori is a philosopher of art and photographer. He is an associate professor at the Budapest University of Technology and Economics and at Kodolányi János University, where he currently serves as Head of the Research Centre for Art and Creative Industries. He visits the University of Murcia in Spain for regular research collaborations. He has conducted research and taught philosophy of art and photography courses at various universities in Hungary, the United States, Spain and Argentina, and has exhibited his photographic work internationally. Zsolt is also the founder and director of PH21 Gallery.
Borbála Jász is an art historian and a philosopher of art. She works as a researcher at the Institute of Philosophy, Hungarian Academy of Sciences, and as an assistant professor at Budapest University of Technology and Economics. She is responsible for the operations of our new Project Room at Ráday 52, and she also works with our social media accounts and website.
AWARDS & BENEFITS
One curator's choice and up to three honourable mentions will be announced. The juror's choice receives three free entries for any upcoming themed group exhibition calls at PH21 Gallery. (Each free entry includes up to 15 images.)
Exhibition prints will be kept on file for a year for future promotion unless the photographer prefers some other arrangement.
PH21 Gallery archives all photography exhibitions electronically, allowing us to promote our exhibiting photographers to curators, collectors as well as the viewing public. Our website also functions as a virtual gallery site, and all photographs included in our exhibitions are published on the dedicated page of the exhibition.
ENTRY FEE
Low early bird entry fees, see details
SUBMISSION
Visit PH21 Gallery online for complete details and to Apply.
All entrants will be notified 10-15 days after the final deadline.
SALES
In case of a sale inquiry the photographer will be promptly contacted. PH21 Gallery commission is 25%. (Submitted photographs, however, do not have to be for sale, and exhibition prints will never be sold; they are for exhibition and promotion purposes only.)
---
About:
PH21 Gallery is a contemporary exhibition space established in 2012 in Budapest, Hungary. The mission of the gallery is to provide group and solo exhibition opportunities and international exposure for contemporary photographers around the world.
PH21 Gallery
55 Ráday St.
Budapest
H-1092
Apply for this Opportunity