This opportunity listing has expired and may no longer be relevant!
Fellows

Right of Return USA Fellowship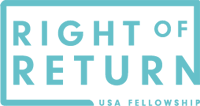 Opportunity Description
U.S. National Deadline: January 14, 2022 – Right of Return Co-Chairs Jesse Krimes and Russell Craig and The Soze Agency are proud to announce the fourth year of the Right of Return USA Fellowship, generously funded by the Mellon Foundation, the Art for Justice Fund, and Open Philanthropy. The fellowship program will continue to invest in formerly incarcerated artists, supporting the creation of original works produced in partnership with advocates and organizers to further criminal justice reform efforts.
Artists have always played a critical role in social movements as culture-makers and catalysts for change. The work to end mass incarceration and criminalization is no exception.
While many artists have explored the issue of mass incarceration, formerly incarcerated artists have a particularly important role to play. Drawing on lived experience, Right of Return USA artists work at the forefront of social movements and have the unique power to translate complex and nuanced ideas into powerful experiences, helping audiences move toward action.
In a world saturated with new challenges and rapidly growing divisions, our fellows are also organizers and advocates who connect people and communities to collectively reimagine the world we want to live in.
The goal of the Right of Return fellowship is to support the creation of new bodies of work that uplift the voices of people directly impacted by the criminal justice system, reflect the humanity of criminalized and incarcerated people, and build public will for ambitious and visionary change. Embedding artists within the reform movement results in more nimble, resonant, and creative campaigns to end mass incarceration and advance racial equity.
ELIGIBILITY
The Right of Return project welcomes submissions from formerly incarcerated artists working in all creative disciplines to challenge mass incarceration—including visual, performance, poetry, media, design, and other artistic practices.
The Right of Return USA Fellowship seeks to support formerly incarcerated artists with a demonstrated capacity to advance social change and a clear vision for utilizing their creative practice to end mass incarceration.
More specifically:
We define the word "artist" in broad terms to include designers, musicians, visual artists, performers, photographers, spoken-word artists, poets, and storytellers.
Artists must collaborate with an advocacy organization during the development and/or execution of their proposed project (collaborating organizations do not need to be secured at the time of application).
Artists may be at any stage of their career.
Projects and applicants must be U.S. based.
Right of Return USA seeks a diverse cohort of fellows with regard to race, ethnicity, gender identity, sexual orientation, and experience.
Funded projects must be completed within 12 months of the award date.
GRANT
In this fourth year, we will be awarding a diverse group of 6 artists a grant of $20,000 each to support a project aimed at reforming our criminal justice system. The 2022 fellows will join a rich community of culture-shaping artists.
ARTIST RETREAT
If selected, Right of Return fellows will be asked to commit to participating in a group retreat in spring 2022 and be invited to a multi-cohort retreat in late 2022. The Right of Return retreats are meant to foster community, develop political advocacy skills, and support practice sustainability. If COVID-19 makes in-person convening impossible, abbreviated versions of the retreat will be held online.
SELECTION
Notification February 28, 2022.
Applicants will be reviewed by a committee of curators, artists and other experts in the field. The reviewers will represent diverse geographies, artistic practices, backgrounds, and fields of expertise.
Submitted proposals will be considered in their entirety. The final selections will be determined by the Right of Return board members in conjunction with the review committee.
Apply for this Opportunity