This opportunity listing has expired and may no longer be relevant!
Compete

7th Biennial Salmon Sculpture Competition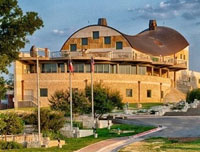 Opportunity Description
International Deadline: August 13, 2021 – The San Angelo Museum of Fine Arts (SAMFA) seeks submissions for the 7th Biennial Salmon Sculpture Competition in Memory of Pam Salmon, a juried exhibition of outdoor sculpture.
Open to all media suitable for long-term outdoor exposure. Up to 12 large scale works will be chosen for installation at the Sunken Garden Park (South Abe Street between the Concho River and Avenue D), City of San Angelo.
ELIGIBILITY & MEDIA
Open to all artists 18 and older. Artwork must have been completed within the last 5 years. All media suitable for long-term outdoor installation, and appropriate to be viewed by audiences of all ages in a public space, will be considered. Artists must provide hardware and tools required for a safe and secure installation. Artwork submitted must be available for exhibition from October 15, 2021 through August 1, 2023.
Size Requirements: We are seeking large scale works, at least 4 feet tall (excluding the base), and a total of at least 9 feet when dimensions are added together (L + W + H). There is no weight limit.
Artwork will NOT be considered if: 1. The materials and construction will not withstand long-term display outdoors. 2. The sculpture does not meet the size requirements. 3. The content is inappropriate for children.
JUROR
Emily Wilkinson, Director for Public Art, Texas Tech University System.
Wilkinson holds two master's degrees from Texas Tech University—one in museum science and another in education and is currently working on her PhD in Higher Education Administration with a focus on public art on higher education campuses.
She is currently a member of the City of Lubbock's Cultural Arts Grant Review Committee, a Councilor-at-Large on the Texas Association of Museums' Board of Directors, and a contributing writer to Lubbock Moms… see more
BENEFIT & CASH AWARDS
First Prize: $2,000; 2nd Prize: $1,500; 3rd Prize: $1,000.
A one-time payment of up to $1000, depending on distance, will be awarded each accepted artist to help defray transportation costs.
ENTRY FEE
A non-refundable entry fee of $20 per artist is required.
APPLY ONLINE
Visit us for more details and online entry.
DATES
August 13, 2021 Deadline to apply
August 23, 2021 Email notification
October 11-15, 2021 Delivery of Artwork
October 15, 2021 Exhibition Opening
October 15, 2021 Sculpture Symposium
August 2-13, 2023 Pick-up Artwork
---
About:
The mission of the San Angelo Museum of Fine Arts shall be to establish and maintain a museum in order to house and exhibit a permanent collection of art as well as to provide space for traveling exhibitions, for the purpose of the enjoyment and education of the general public in San Angelo, Texas, and the rural communities of the Concho Valley.
Located near the heart of downtown San Angelo and overlooking the beautiful Concho River, the San Angelo Museum of Fine Arts has three spacious galleries two with dramatic 40-foot ceilings, a multi-purpose meeting room that can accommodate up to 300 people.
San Angelo Museum of Fine Arts
1 Love Street
San Angelo, TX 76903
Apply for this Opportunity