This opportunity listing has expired and may no longer be relevant!
Art Calls

I Do Believe – A Postcard Exhibition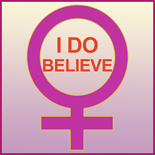 Opportunity Description
U.S. National Deadline: July 31, 2022 – The woman's right to abortion in the United States became Federal law on January 22, 1973 through the Supreme Court Case, Roe v. Wade. Individual states could no longer have their own laws that would contradict the provisions of this Supreme Court decision. But the passage of Roe v. Wade did not put the issue of abortion rights to rest. The recently leaked draft of the Supreme Court opinion by Justice Samuel Alito in Dobbs v. Jackson Women's Health Organization is expected to overturn the landmark Roe v. Wade decision. This will likely become law, and other anti-abortion laws may soon take effect in many States. There are widespread disagreements among United States citizens, politicians and media about abortion.
Priscilla Otani, an NCWCA (Northern California Women's Caucus for Art) member in San Francisco, is organizing this postcard exhibit to visually discuss this subject. Opinions on all sides of the abortion debate are welcomed.
How to Participate
Create, purchase or transform a standard 4 x 6 postcard (You can use any commercial postcard or you can create your own)
Write on the front of your card (the side with the picture) your message/ belief on either right to life (against legalized abortion) or right to choose (legalized abortion). It can be a few words, one sentence, or a paragraph.
You do not have to be an artist to participate.
Mail your postcard to:
I Do Believe
c/o Priscilla Otani
PO Box 31083
San Francisco, CA 94131
Your Postcard can be sent with or without an envelope.
Anonymous
You can send your postcard anonymously. Also, to safeguard anonymity, all names of senders will be blocked out on postcards before displayed.
Some postcards will be displayed in an online exhibition, as part of social media posts and in some instances, in physical exhibitions held by our WCA chapter and national.
Share your thoughtful, heart-felt beliefs, whatever they may be, on this complex and important subject. And please share this call for postcards with your friends and organizations.
---
About:
The Women's Caucus for Art was founded in 1972 in connection with the College Art Association (CAA). WCA is a national member organization unique in its multidisciplinary, multicultural membership of artists, art historians, students, educators, and museum professionals.
The mission of the Women's Caucus for Art is to create community through art, education, and social activism. WCA is committed to recognizing the contribution of women in the arts; providing women with leadership opportunities and professional development; expanding networking and exhibition opportunities for women; supporting local, national and global art activism; and advocating for equity in the arts for all.
As an NGO (non-governmental organization) of the United Nations, the Women's Caucus for Art actively supports Sustainable Development Goals (SDG's). WCA utilizes art as the universal language to engage artists, NGOS, and civil society on a broad range of issues such as gender equity and environmental sustainability.
As a founding member of the Feminist Art Project (TFAP), WCA is part of a collaborative national initiative celebrating the Feminist Art Movement and the aesthetic, intellectual, and political impact of women on the visual arts, art history, and art practice, past and present.
Women's Caucus for Art
640 Bartholomew Road–Rm 122A
Piscataway, NJ 08854
Apply for this Opportunity