This opportunity listing has expired and may no longer be relevant!
Compete

Articulum National Exhibition: Radiantia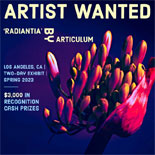 Opportunity Description
U.S. National Deadline: May 28, 2023 – Articulum is seeking submissions for our upcoming in-person exhibition. An original art show featuring works that utilize fluorescent materials allowing them to interact with UV lighting (blacklight).
The theme of this gallery will be the relationship between the lost and the found, the heard but not seen, night and day. Conceptual in nature and experimental in technical application of skill. Each artwork should have a distinct visual while seen in a normal setting and then a separate visual when seen in UV lighting. We urge applicants to explore this theme with us in order to create a consistent, vibrant and meaningful environment for gallery attendees.
The exhibition will be held in a Los Angeles (TBA) gallery space where the lighting system will cycle between UV lighting and standard lighting every 90 seconds throughout the entire duration of the show. This allows all artworks to be seen in both states thus amplifying the aforementioned theme. This gallery space will have two sections. One section dedicated to the host artist and the other dedicated to the small group of selected submissions. Both sections will be open for all guests.
ELIGIBILTY
We welcome submissions from artists 18+ years old, at various stages of their career, including emerging, mid-career, and established professionals. Open to paint, clay, textiles, fabric, ceramics, sculptures, installations, glass, and/or mixed media. (All of these mediums can be incorporated with fluorescent material such as powders, paints and specific mixing mediums. Be creative and ambitious on your approach to including this new material.)
Minimum canvas size; 7 in x 7 in. Maximum canvas size; 36 in x 48 in
Sculptures/installations; Maximum height; 60 in. Maximum width; 36 in
No reproductions.
Original work only.
AWARDS
1st Recognition Prize: $1,500 USD
2nd Recognition Prize: $1,000 USD
3rd Recognition Prize: $500 USD
ENTRY FEE
Fee is $15 USD per application (*3 images). Call fees are one aspect of expansive gallery productions that enable the organizer to ensure necessary resources are available for each event. This is oriented to serve artists first and foremost.
APPLY ONLINE
Selected artist will be first notified via email 3 weeks before the exhibition.
SALES
Gallery retains 30% commission on all exhibition sales.
---
About:
Articulum, LLC. is a brand focused on conceptual, performative art movements centered around necessary discussions. The future looks exciting as the coming years will be full of innovative projects and artistic collaborative movements. Exhibits, fashion shows, long-term installations, short-term installations, and more.
Apply for this Opportunity